Milk, flour and baby formula are among the staple foods that are now more affordable for our customers.
North West is a strong advocate for programs that help to improve the accessibility and affordability of healthy food options for our customers. The North West Company operates 132 Northern and North Mart stores across northern Canada and is one of the largest participants in the Nutrition North Canada (NNC) program, an effective tool for improving the affordability and accessibility of healthy food choices. North West participates in the program in 86 communities.
Program changes announced on January 1, 2019 will result in improvements for some food prices, notably milk, flour and infant formula. A great example of Nutrition North's effect on prices in Arctic Bay, NU can be seen in the price of a 4L jug of milk: with Arctic Bay's NNC subsidy. The price is now $4.69.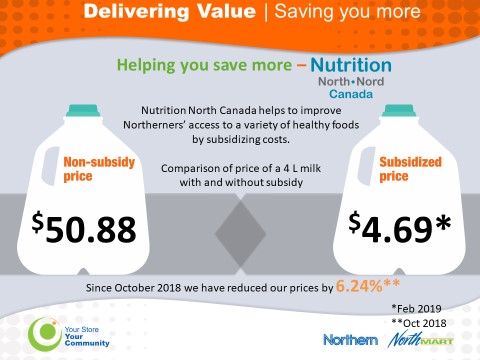 While NNC has been successful, we know there is still room for improvement to the program. We have recommended that subsidy levels continue to adjust to reflect inflation. We are always looking for ways to drive down costs and pass along the savings to our customers.