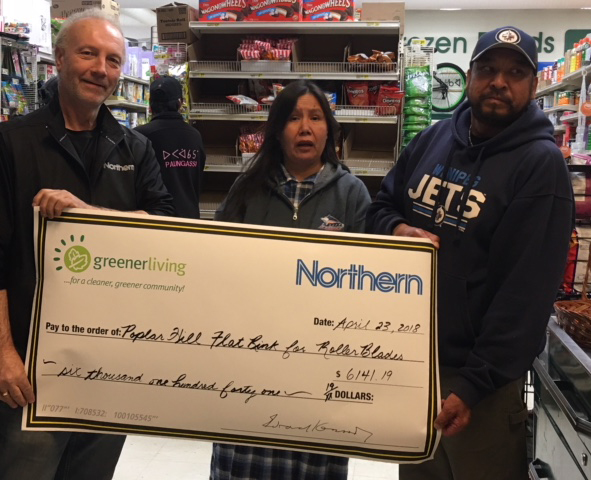 (Photo: Left to Right: Ken Beaton, Northern Store manager, Poplar Hill, ON, Barbara Strang, and Chief Jacob Strang)
The children of Abe Scatch Memorial School in Poplar Hill, ON will soon be zipping around a new roller skating park, thanks to Greener Tomorrow.
Northern Manager Ken Beaton was excited to present a $6,141 grant to Poplar Hill Chief Jacob Strang, and wife Barbara Strang, in September. The students have been working hard to fundraise in order to help build the park.
The grant and new park will make a significant positive impact in the community, where there is currently a shortage of activities for children.
Beaton is glad Poplar Hill is benefiting from the program. "[Greener Tomorrow] teaches future generations how to respect our surroundings and protect our community for the future."
Since 2011, the Greener Tomorrow program has reduced the use of plastic bags by 69%, which has eliminated millions of plastic bags from landfills. This program charges customers a single bag fee for plastic bags, and fees accumulate over the year. Each year, on Earth day, 100% of proceeds are returned back into the community.