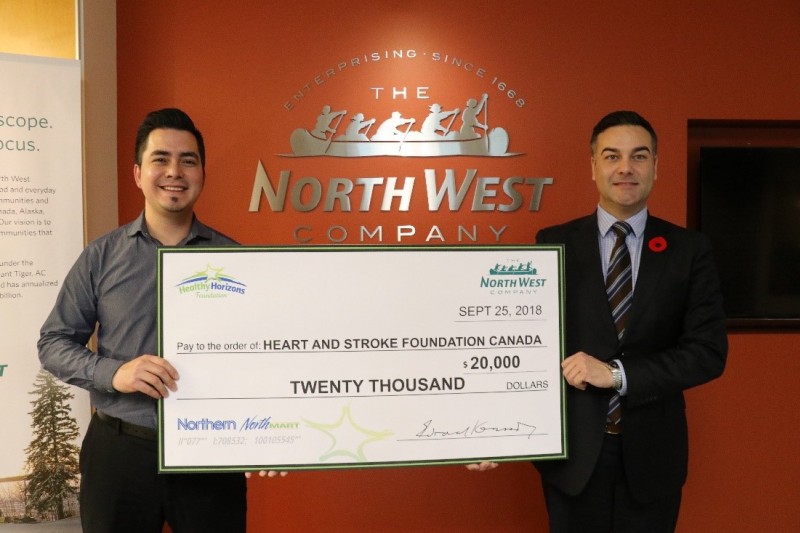 Photo: Left to Right: Andrew Thunder, Community Support and Communications Specialist, The North West Company and Dale Oughton, Director of Development, Heart & Stroke Foundation
Healthy Horizons is helping the Heart & Stroke Foundation close the health gap between Indigenous and non-Indigenous people in northern communities, with a $20,000 grant.
The Heart & Stroke Foundation is working with Indigenous groups and communities to provide an elementary-level classroom resource, HeartSmart Kids, which supports teachers in their efforts to teach children from Kindergarten through Grade 6 the basics of healthy living, physical activity, and nutrition.
"We are so thankful for community-minded organizations such as The North West Company who are partnering with the Heart & Stroke Foundation in Manitoba and Saskatchewan to empower Indigenous youth," said Dale Oughton, Director of Development, Manitoba and Saskatchewan. "With an approximate cost of $1,000 per classroom, the Healthy Horizons Foundation, through The North West Company, will help us empower and educate hundreds of youth in these two provinces."
The grant will support delivering the program to 20 classrooms in Northern communities, including those served by The North West Company such as La Ronge, Saskatoon, Brochet, Churchill, Crosslake, Lac Brochet, Norway House, Pauingassi, Poplar River, Shamattawa, South Indian Lake, Split Lake, The Pas, Thompson and Wasagamack.
Heart disease rates for Indigenous people are as much as 50 per cent higher than in the general Canadian population, and the death rate from stroke is twice as high. Research has shown that Indigenous peoples are more likely to have high blood pressure and Type 2 diabetes, which puts First Nations, Inuit and Métis people at a greater risk of heart disease and stroke than the general population, according to Heart & Stroke Canada.