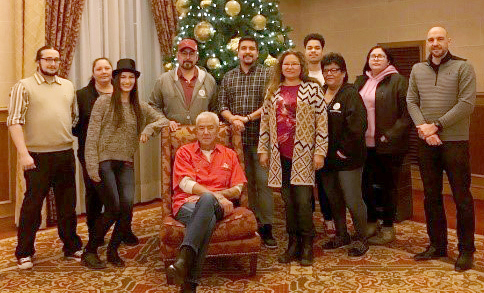 Pictured: Tom Jackson (seated) and guests of the Dinner for the Needy event held on December 21
Tom Jackson has a tradition of helping feed Canadians in need each holiday season – and The North West Company has a tradition of supporting him in his efforts.
Tom Jackson's Christmas and Winter Relief Association recently hosted a dinner for families of Winnipeg's inner city and patrons of a variety of homeless shelters. The event took place on December 21 at the Fort Garry Hotel and included dinner, entertainment and gifts for the over 200 children in attendance. The North West Company donated Giant Tiger gift cards, as well as 25 turkeys. North West employees also volunteered their time to help make the event a success.
In response to the support, Tom Jackson had the following message for North West: "Sometimes it's the spirit of giving that moves us, sometimes it's the spirit of community that soothes us… The North West Company awoke the conscience of love on Dec 21. Joy will resonate in your community as it did that night, for another year. We thank you for your commitment to improving the quality of life where you live".
Pictured: Renowned Canadian singer and actor Tom Jackson shops for children's gifts at the North West Company's Giant Tiger store in Winnipeg.