Pictured: Gabe Moose performing the smudging ceremony.
The Lynn Lake Winter Carnival brought together 500 community members in late February, who all celebrated in memory of local resident Harry Merasty.
The annual event in Lynn Lake, MB was sponsored and organized this year by the Lynn Lake Chamber of Commerce along with several volunteers. Mayor Jim Shortt organized the memorial event in remembrance of Merasty, who gave his time for many years to organize dog sled races in town, and whose passing was felt by many attending the event. The memorial also included a smudging ceremony performed by Gabe Moose.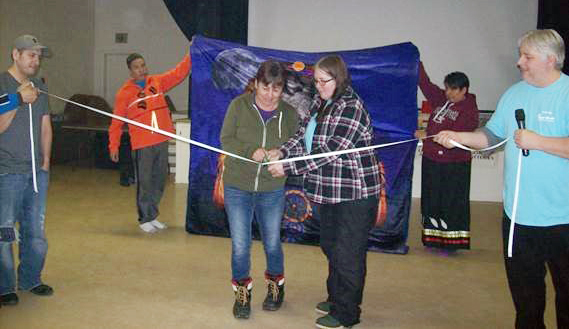 Pictured: In front, left to right – front row: Robert Merasty; Emily Farrow (Harry Merasty's sister); Seoniad Merasty (Harry's wife); and Jim Short, Mayor of Lynn Lake. In back: Gabe Moose and Judy Moose during the ribbon cutting for the First Memorial for Harry Merasty.
The carnival also consisted of many fun-filled events such as dog sled races, volleyball and hockey tournaments and a Musher feast where the dog sled race prizes where distributed.
The Lynn Lake Northern store has been contributing to the Winter Carnival every year, with a donation of bags of dog food for the race. Additionally, Lynn Tozer, Northern Store Manager, volunteered to organize and cook for the mushers' luncheon – a delicious meal of a choice of chili or stew, served with a side of bannock and cranberry cake with hot sauce.
"I enjoy volunteering for the community and I've volunteered for the Chamber of Commerce for quite some time now. Every year I make the dessert and serve the people at the feast," says Tozer.