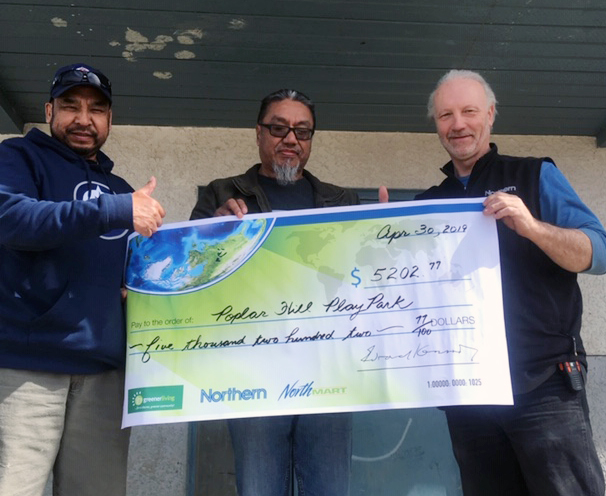 Pictured: Left to right – Chief Jacob Strang, Councillor Eli Moose and Ken Beaton, Poplar Hill Northern Store Manager at the Greener Tomorrow cheque presentation.
Poplar Hill First Nation is building a new Play Park for children, thanks to a $5,202.77 grant from the Greener Tomorrow program. The Play Park will be built next to the new nursing station as a recreational and green area that will provide an excellent opportunity for children to play while on medical visits.
The Play Park development will start after the nursing station open its doors. Swings and seesaws will be built first, then additional playground equipment will be added each year. The new Play Park will also allow children and other community members an opportunity to exercise and socialize outdoors.
"The Chief and Council are more than happy with the Greener Tomorrow contribution," said Ken Beaton, Poplar Hill Northern Store Manager. "The people of Poplar Hill overall appreciate anything The North West Company do in support of our community."
The Greener Tomorrow funds are raised by charging shoppers for plastic grocery bags, while encouraging the use of reusable bags.