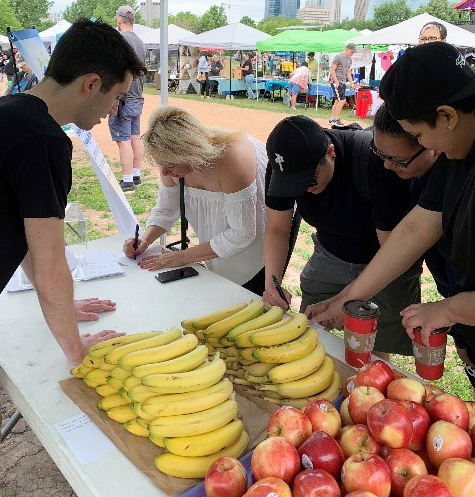 Pictured (left to right): Shelden Eggum, Corporate Communications Coordinator Intern; Andrew Thunder, AMC; and Lorena Solorzano, Community Support and Communications Specialist.
The North West Company supported Indigenous Day Live in Winnipeg once again this year. As an event sponsor, North West welcomed participants to its booth where people could enjoy free fruit and learn about the Indigenous Language Program. North West's booth offered participants the chance to scan sample shelf label QR codes to hear the names of products pronounced in the Oji-Cree language.
Participants were also invited to take part in a contest for a chance to win a $200 gift card. Participants had to correctly translate two words to English from a list of words in Indigenous languages to earn an entry. Try it for yourself and see how many words you can translate below!
North West's Indigenous Language Program provides communities throughout Canada the opportunity to preserve their Indigenous languages. Northern and NorthMart stores throughout Canada offer shelf labels in that community's specific language and dialect. North West has worked with 121 communities to develop this program, all to help preserve the languages of the communities we serve and provide convenient shopping for the Elders within those communities.
Throughout the afternoon, North West also provided participants with information about its Health Happy and Healthy Horizons programs. The Health Happy program aims to help expand the variety of healthy food options available for customers, as well as to make it easier for them to identify those options in store. The Healthy Horizons program is an initiative dedicated to improving the health and well-being of youth in the communities we serve.