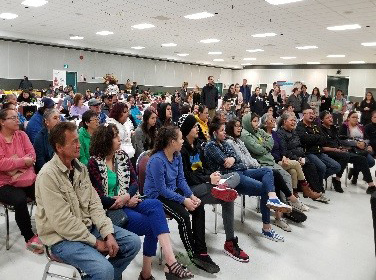 Pictured above are attendees at the Annual Indigenous Gathering on Diabetes health and wellness event.
The North West Company's Healthy Horizons Foundation was proud to support the 16th Annual Indigenous Gathering on Diabetes in Prince Albert, SK. The health and wellness event provided diabetes education and professional support to people who are affected by, or at risk for developing, diabetes.
Nearly 200 people attended the event, where everyone had a chance to learn about healthy living. This year for the first time, Diabetes Canada introduced a youth speaker who gave an empowering presentation.
The tradeshow featured booths set up by 17 organizations, promoting local programs and services for people living with diabetes.
"Diabetes can be a very isolating medical condition. Not only is it virtually invisible to others, but it can be very challenging to understand the complexities of balancing medications, diet, exercise and daily living," says Faith Rowland, an account manager with Diabetes Canada. "The Indigenous gathering offers Indigenous people living with diabetes an opportunity to gather and share their experiences as they learn more about managing their condition."
Healthy Horizons Foundation was honored to support this event that helped people become aware about diabetes and to overall improve health and wellness.