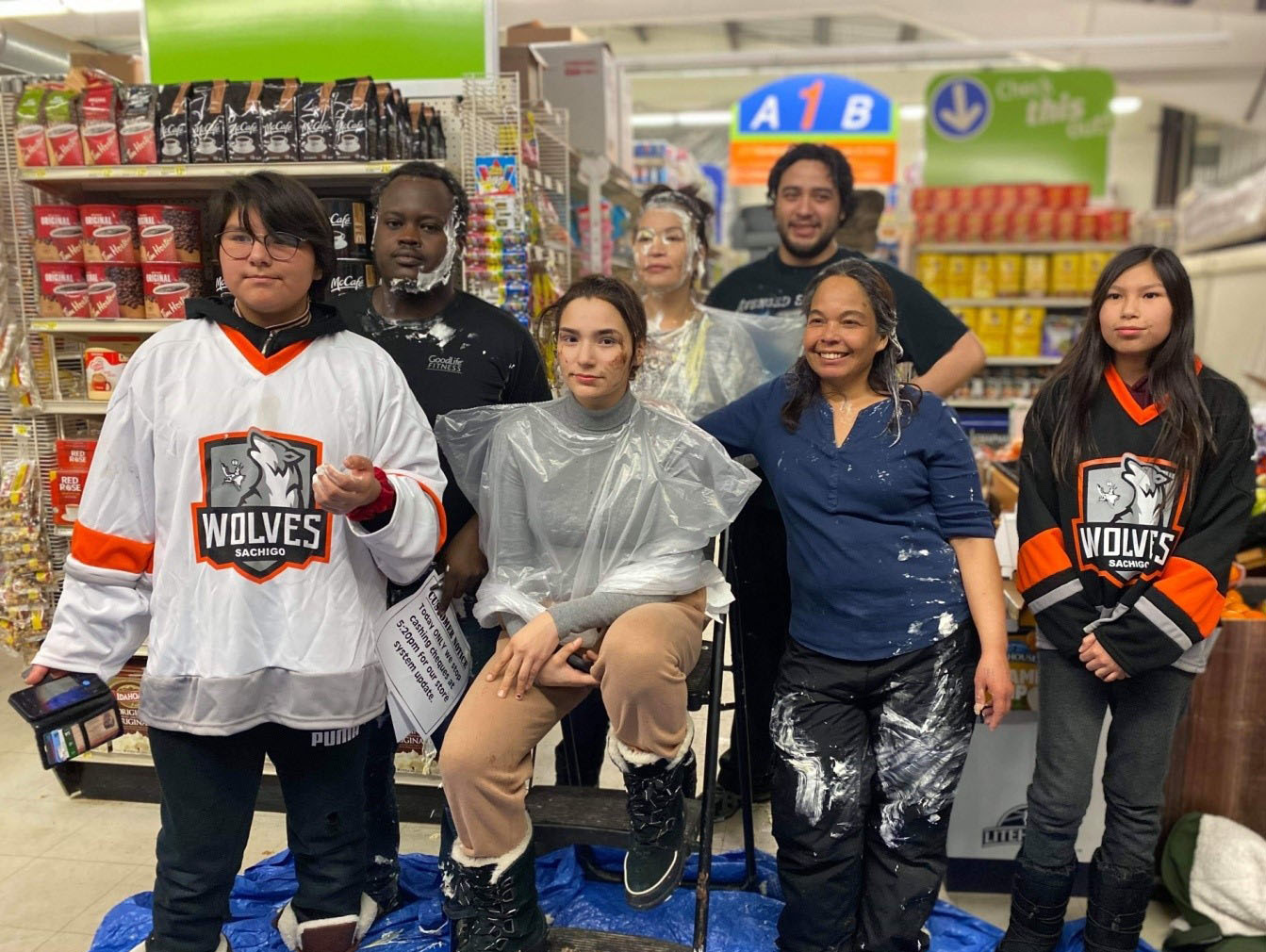 Pictured: Northern managers Rulx Lubin (back left), Delphine Bruce (front, second from right), Sachigo Lake hockey team representatives and customers who volunteered to get pied celebrated a successful campaign.
Young hockey players and their famlies in Sachigo Lake, ON got some extra help chasing their passion this season, thanks to a fundraiser at the local Northern that helped bring in an impressive $2,000.
Sachigo Lake Store Manager Rulx Lubin has personally witnessed the joy that hockey brings to the community. In 2019, all five competing Sachigo Lake youth hockey teams placed – three winning their respective categories – in a nationwide competition, despite some major challenges. This prompted Northern to support Sachigo Lake's hockey teams, in hope that every athlete would be able to execute their best practices and have the time of their lives at the Lil' Bands Tournament 2020 in early February.
In January, the Northern Sachigo Lake team organized the "Help Sachigo Lake Hockey Teams Fundraising Campaign" at the store. Customers who donated $5 of cash at the register would have a chance to win fun and inviting prizes, ranging from a chance to decorate Northern staff's faces with pies to a washer, dryer and TV. On its launch day alone, over $250 was raised in this small Ontario rural community. "As soon as [the campaign] was posted online, the community warmly embraced the initiative and believe it or not, people were more excited about having the opportunity to pie one of us on the face instead of winning the other prizes," Lubin shared. The prizes were well received, too.
They say laughter is the best medicine… How about a pie as a prize?
"The customer who won the dryer posted on the community Facebook page about how she had donated her last $20 for that week to the campaign, and later found out she actually won something and thanked Northern. When the dryer was being delivered, she was in the middle of hanging her clothes so it came in very handy."
Northern Sachigo Lake was happy to help with the hockey fundraising and bring in some laughter to beat chill of winter.
Thanks to the community's support, Sachigo Lake teams brought home six trophies.