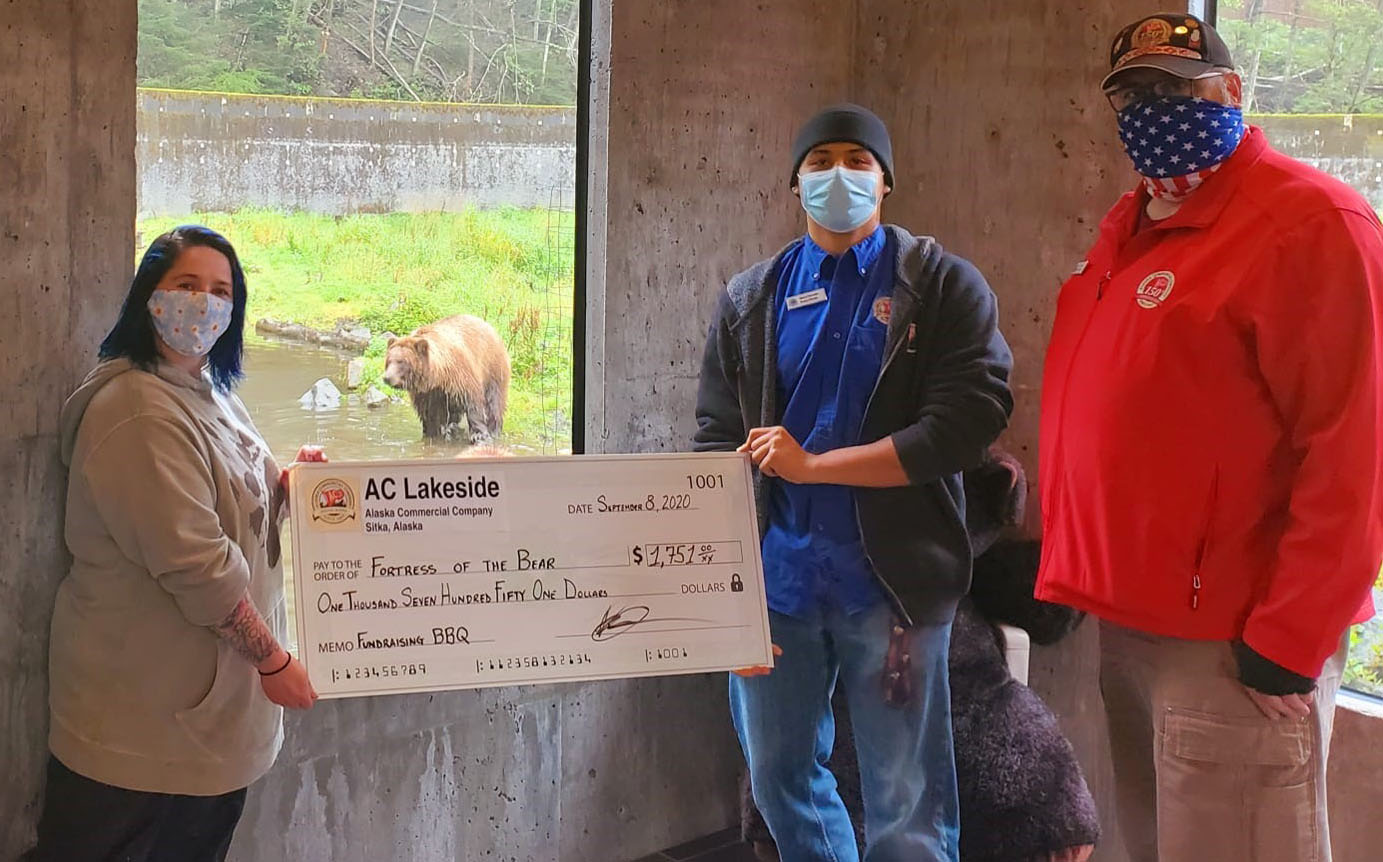 Pictured above: (Left) Community members indulge in delicious food. (Right) From left: Fortress of the Bears, Bear Manager and Specialist, Claire Turner accepts the proceeds cheque from AC Lakeside Sitka. Produce Manager, Michael Fernandez and AC Lakeside Branch Manager, Vince Winter.
Sitka community members enjoyed a delicious barbecued meal – all for a good cause.
Alaska Commercial Company's (AC) Lakeside, Sitka store hosted its Customer Appreciation Celebration on September 5, in partnership with Sitka Bottling, to bring the community together in a safe, physically distanced manner, in support of Fortress of the Bears.
For a $10 donation, attendees had a choice of a hamburger, pulled pork sandwich or hot dog, alongside baked beans, coleslaw and drinks, which were provided by Sitka Bottling along with swag. The delicious BBQ scent in the area even led to morning shoppers returning later on to grab a bite to eat.
To complement the event, the children got the opportunity to compete in a colouring contest and AC Lakeside gift cards were handed out every hour. The event had something to offer for all members of families and was very well received overall.
"During these uncertain times we finally had enough practice under our belts to actually host an event like this and everyone practiced safety, from customer to employees alike," said Vince Winter, AC Lakeside, Sitka Branch Manager.
By the end of the celebration, $1,741 was raised and donated to Fortress of the Bears, a non-profit organization dedicated to the care and rehabilitation of orphaned bear cubs in the state of Alaska. A cheque presentation was held at the Fortress of the Bears location the next day.