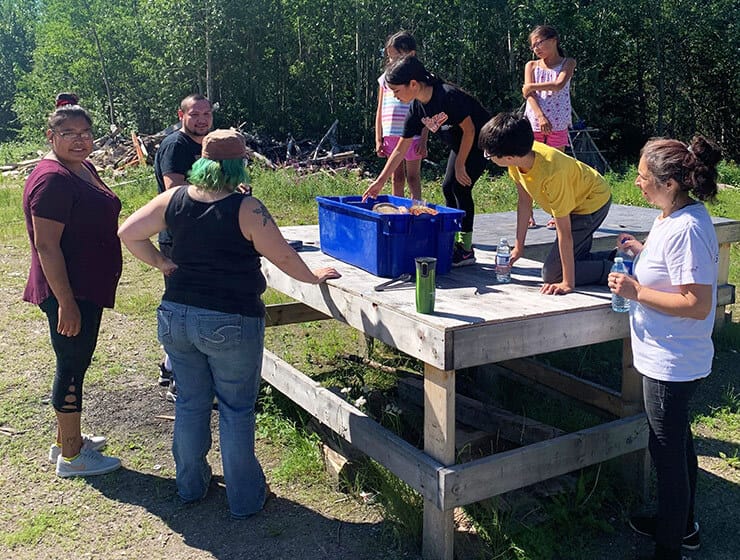 Pictured above: Youth engaging in fun, land-based education
This past summer, youth from different communities got the experience of a lifetime – connecting with their heritage and learning traditional Indigenous ways of life – thanks, in part, to a $7,000 grant from The North West Company's Healthy Horizons Foundation.
Food Matters Manitoba typically hosts a large annual Northern Youth Gathering, during which participants learn survival skills such as hunting, fishing, trapping and harvesting while building self-reliance, pride and a connection to nature. Guided by Elders and Knowledge Keepers, these activities foster a close relationship and deep understanding of the traditional lifestyle.
This year, the land-based program looked a little different due to COVID-19 restrictions. Instead of one large gathering, Food Matters Manitoba held four smaller events.
One small youth gathering and three medicine camps were held in July and August in Fox Lake, Crane River and Split Lake. Elders, Chiefs, Council Members and Food Matters Manitoba staff treated youth to a variety of activities including canoeing, traditional teachings, medicine and berry harvests, dancing and pipe ceremonies. The small groups kept the learning personal and meaningful.
"Despite being an adaptation to our original plans, these smaller more community-based camps, with smaller groups attending, were valuable and can be celebrated as a positive addition to our toolkit for traditional learning. Thanks to the North West Company and their Healthy Horizons grant this past year," said Demian Lawrenchuk, Food Matters Manitoba Northern Coordinator.