Pictured above: The Northern Store in Beauval, SK
Our Community Promise:
The North West Company Inc. is proud of the active role we play within the communities we serve, striving to make a positive, progressive difference. Our contributions within the community of Beauval, SK, are a testament to our commitment.
Beauval is located in Northwest Saskatchewan, 400 kilometers northwest of Saskatoon, overlooking the beautiful Beaver River Valley. The northern village is accessible year-round via highway and the local airport. The community's population of 640 (as per 2016 Census Canada data) is composed of descendants of Métis and Cree trappers and fishers.
Did you know?
North West is proud of the impact we have on the community.
1. Employment: We are one of the most prominent employers in Beauval, with our Northern store employing 8 individuals. Our commitment to local talent is demonstrated through our workforce, consisting of 80% Indigenous employees.*
2. Capital Investment: Northern has made a $380,922 capital investment in the Beauval store over a 10-year period.*
3. Annual Economic Impact: Northern is making a positive impact in Beauval, with $225,269 annual economic impact in the community.*
The community's Northern Store Manager, Jennifer Estabrooks, and her team are strong community supporters and team players.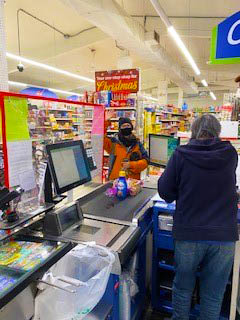 Pictured above: (Left) A Beauval Northern Store staff member helps a customer. (Right) Floor markings encourage physical distancing practices
"The community of Beauval is my home and its members are my family," said Estabrooks.
*For the year ending 2019