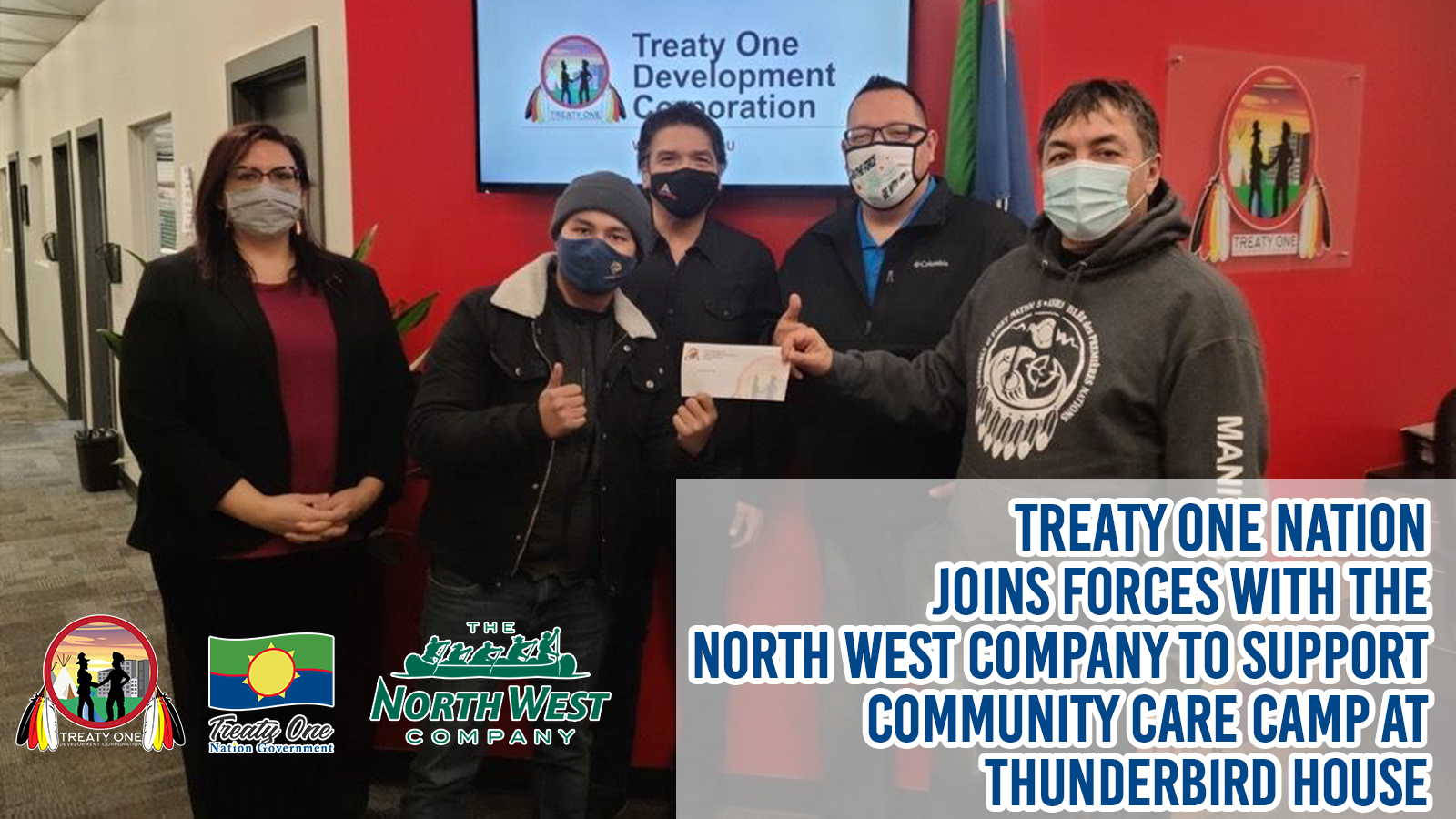 Pictured above: Chief Dennis Meeches, Spokesperson for Treaty One Nation Government, and staff of Treaty One Development Corp. present a $5,000 cheque to Rylee Nepinak, Founder of Anishiative.
Treaty One Nation Government and The North West Company Inc. joined forces to support the Community Care Camp at Thunderbird House in Winnipeg, MB, a project by Anishiative that provides shelter for those in need in the community.
At the end of January, media networks announced the arrival of the polar vortex for the first weeks of February, which would bring extreme cold temperatures to Manitoba and much of Canada.
Anishiative, a program of youth leaders led by Rylee Nepinak, quickly took action to set up a warm shelters for those in need in the community. The group set up two 20-foot teepees and a prospecting tent next to Thunderbird House, which has since become known as the Community Care Camp.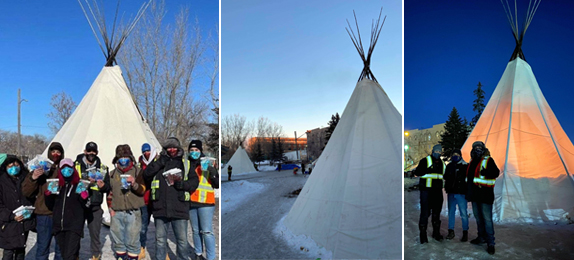 Picture above: Anishiative's team and volunteers have been working around the clock to ensure the Community Care Camp is warm and safe.
Bonfires were installed inside the teepees, and a woodstove was put inside the prospector tent, to keep everyone warm. Safety measures are in place to practice social distancing, face masks are mandatory and hand sanitizer is offered. Some refreshments are also available.
As part of their efforts to help protect people from the freezing weather, Anishiative asked for support in providing winter gear, firewood, lights, coffee and volunteer time to ensure the place was warm and people were safe.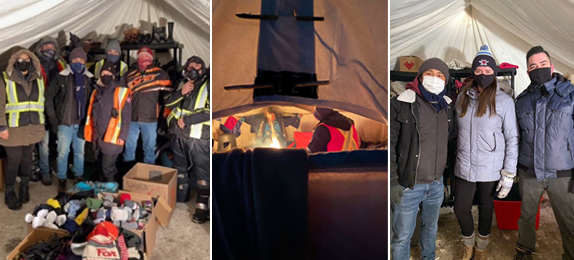 Pictured above: The winter gear is brought to the Community Care Camp to be given to those in need (left) while people in need warms up inside the teepees. Rylee Nepinak (left) along with The North West Company staff members at the camp.
In response, the Treaty One Nation Government and the North West Company teamed up to offer a joint donation of $10,000 towards winter gear for those in need. As part of the donation, The North West Company Inc. provided $5,000 worth of gift cards from the Value Lots store in Winnipeg which have been used to purchase warm clothing and other essential items
"It's amazing what can be done when communities come together," said Chief Dennis Meeches, Spokesperson for Treaty One Nation. "Monetary, clothing and food donations have been rolling in allowing the Community Care Camp to keep our homeless population warm and safe."
The Community Care Camp is hoping to stay up and running as long as the frigid temperatures last. If you would like to make a donation or volunteer, please contact Rylee Nepinak at 204-430-1180 or by email at wpganishiative@gmail.com