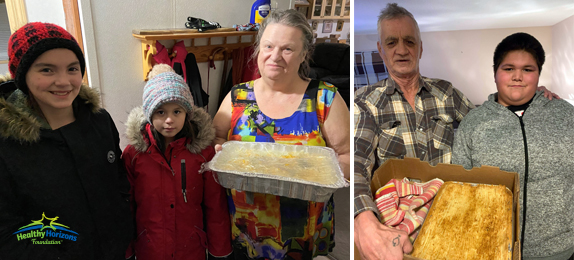 Pictured above: The community's elders received a delicious casserole cooked with love and dedication by the youths from the Youth Cooking program.
Youth from Hay River, NT learned to develop their culinary skills while also forging a special connection with Elders in their community, thanks to a Healthy Horizons grant.
The grant was awarded to the Soaring Eagle Friendship Centre (SEFC), which offers programs and services to help solve community challenges while being inclusive of everyone. The Youth Cooking Program – 'Youth Cooking for Elders', offered twice a week to children ages 8 to 14, teaches the youth to prepare and cook casseroles for their families and for the Elders in their community.
Due to the pandemic, the Youth Cooking program was postponed to November and December 2020, and adapted to follow social distancing. Each of the 20 youth participating received two casserole kits to take home which contained the ingredients needed to cook that week's recipe, depending on the week they had signed up for.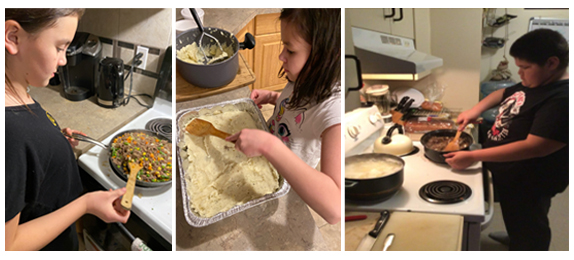 Pictured above: Community youth learn to prepare and cook Shepherd's pie among other nutritious dishes.
Using recipe instructions, the youth learned how to prepare and cook a variety of nutritious dishes, and how to measure and mix ingredients properly. In addition, they learned how to make conversions, use kitchen utensils and follow food health and safety protocols.
Each participant had to prepare and cook two casseroles, one to share with their family and the other to gift to an Elder of their choice. Each selected Elder felt surprise and great appreciation for the thoughtfulness and kindness of these youth.
"This funding gave us an opportunity to bring awareness, and a sense of accomplishment for all involved in this program. The Youth Cooking Program – 'Youth Cooking for Elders' educated youth participants on some essential skills such as cooking. However, more importantly this opened the minds of each participant by showing them a kind gesture and hard work goes a long way," said Joanna McKay, Executive Director of the Soaring Eagle Friendship Centre. "This project was successful especially when engaging and connecting both our youth and Elders in this moment. The greatest lesson our children need to learn is how to take care of themselves and respect the traditional knowledge gained by learning from their Elders."
The Healthy Horizons Foundations is dedicated to improving the health and well-being of youth in communities through financial support. Its mission is to provide youth with the tools to foster a connection to physical activity and healthy living.