Pictured above: The Northern Store in Chisasibi, QC.
Our Community Promise
The North West Company Inc. is proud of the active role we play within the communities we serve, striving to make a positive, progressive difference. Our contributions within the community of Chisasibi, QC are a testament to our commitment.
The Cree Nation of Chisasibi sits on the south shore of La Grande River, on the eastern coast of James Bay, in the Eeyou Istchee territory. Chisasibi means "Great River" and is located about 10 km away from the river's mouth.
Chisasibi is the most northern Cree community in Quebec accessible by road. A 90 km paved road, running from Radisson and parallel to the Grand River, connects Chisasibi to the James Bay Road. The community can also be accessed by air, arriving at Chisasibi Airport located just west of the community.
The vibrant young community has a population of more than 5,000 residents (as per the Chisasibi website) which includes approximately 4,800 Cree, 90 Inuit and 250 non-Native residents of diverse origins. The majority of the residents speak Cree as a first language but English is also widely spoken, as well as some French as second languages.
Did you know?
North West is proud of the positive impact we have on the community.
1. Employment: We are one of the most prominent employers in Chisasibi, with our Northern store employing 40 individuals. Our commitment to local talent is demonstrated through our workforce consisting of 75% Indigenous employees.*
2. Capital Investment: Northern has made a $2,534,624 capital investment in the Chisasibi store over a 10-year period.*
3. Annual Economic Impact: Northern is making a positive impact in Chisasibi, with $1,492,494 annual economic impact in the community.*
Our Northern Store Manager, Edmund McKay and his team are significant community supporters.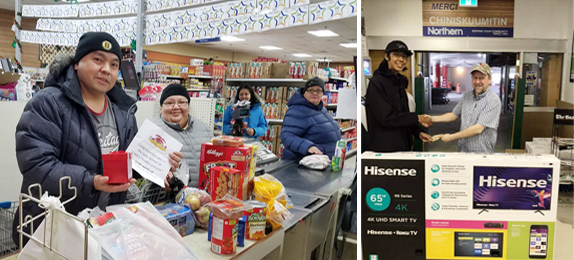 Pictured above: Community members who have participated and won in some of the past Northern store campaigns.
"I have been incredibly lucky in 6 years to have been able to visit 9 different communities while keeping my home base Chisasibi, from training right through till today. The community has its eyes on the future and is maximizing its potential at every corner," McKay says. We are happy to be part of the community and helping with its daily needs. Hopefully, as Covid-19 challenges become fewer, Chisasibi and the James Bay Region can continue to evolve while keeping its heritage and roots intact."
*For the year ending 2019