Pictured above: Arviat Northern Store Manager Darren Price, who worked hard along with the store staff to provide the best possible service during the second wave of the pandemic, a very difficult time for the community.
After four months of arduous fight against the COVID-19 virus, the community of Arviat, NU overcame a major hurdle thanks to the unity, support and resilience of all members of the community.
Arviat has been one of the hardest hit communities in the North during the second wave of the pandemic. The virus arrived in the community in November, spreading rapidly and leading to extreme measures being taken abruptly, including declaring a state of emergency and putting curfews in place. In response, the entire community stood strong and stayed united in its fight against the virus.
As an essential service, Arviat Northern Store staff battled the virus on the front lines and had to mobilize quickly. Northern Store Manager Darren Price worked very closely with officials, having daily calls with community leaders, the health centre and other organizations so Northern could continue to provide essential goods and services to the community, while also supporting other initiatives that were undertaken.
During these months, the store remained open with no change to its regular hours of service. To provide special support to the Elders of the community, an exclusive schedule was established from 9 to 10 am every day.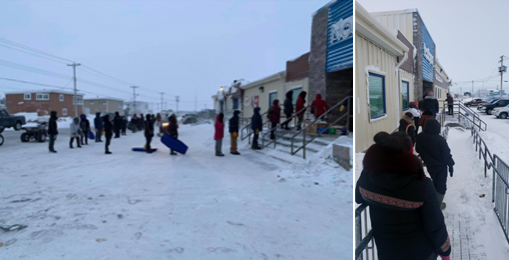 Pictured above: People waited patiently to make their purchases, while following the safety measures in place.
Safety measures were increased inside the store to protect customers and staff. No more than 50 people were allowed inside the store and only one member per household was allowed to shop. Hand sanitizer was offered upon entering the store, and the use of masks was mandatory as well as maintaining a social distance of six feet. Phone orders were increased and free grocery delivery was offered to people in isolation.
The hardest time for the Northern store was when 13 employees were unable to report to work because they had to quarantine. Despite this major challenge, the store staff rose to the challenge. Fortunately, all store staff received cross training, so all employees were able to assist in any role as needed.
"The management team in Arviat is the reason we 'beat' this wave of the pandemic. We kept the virus out of the store for the most part and we are very proud of what we accomplished last year. We were all scared to take the virus home to our families," said Price. "The team in Arviat is the best team, we all rallied together, and times were tough, but there was always someone cracking a joke to make us all laugh. Great team!"
From November to March, there were 339 cases of COVID-19 and one death in the community. On April 5, the Government of Nunavut has reported zero active cases of Covid-19 in the community.