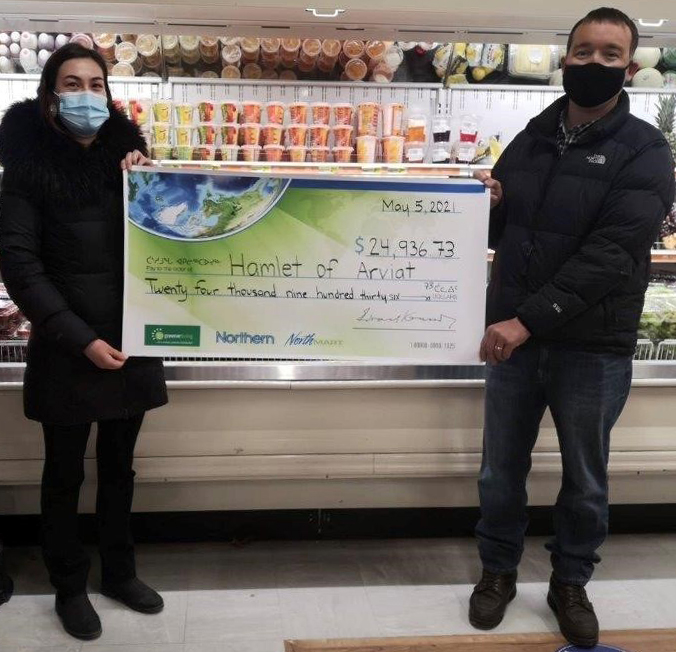 Pictured above: Arviat Mayor Joe Jr. Savikataaq (right) and Assistant Senior Administration Officer Amber Kadjuk receiving the Greener Tomorrow grant on May 13 2021.
Residents of Arviat, NU can look forward to the continuation of the school breakfast program at Levi Angmak Elementary School and the further development of its territory-renowned Sports Park, made possible with the contribution of a Greener Tomorrow grant worth $24,936.
Continuing for another year, the school breakfast program will continue to curb issues related to food insecurity in Arviat, providing program participants a range of healthy options including fruits, eggs, cereal and milk. All students are welcome to participate in the program.
The funds from the Greener Tomorrow grant will also be put toward new food processing and preparation equipment for the school. School Principal Tony Phinney will lead the program, under the authority of the Hamlet of Arviat.
While a fair amount of funding will assist the school, the bulk of the funding will be put towards the construction and upkeep of Arviat's Sports Park – one of the main facilities in its prided Eco Park. Now in its thirteenth year of construction and right on track to complete in 2033, the Eco Park is set to provide several recreational options to residents of Arviat and nearby communities. As part of the 25-year planned project, the Sports Park is conveniently located near several community BBQ pits, and a planned grand stage for outdoor concerts.
The Sports Park itself has completed construction on turfs, fencing, and seating for mini golf, softball, basketball, soccer and ball hockey venues. As much as the Sports Park is meant to provide some much-needed recreation to the community at large, it is also meant to encourage active living among its youth.
"We are proud to provide our continued support to the Sporks Park initiative and the breakfast program," says Arviat Northern store Manager Darren Price. "It's exciting to think of how we can give back to everyone at Arviat by helping the well-being and health of our youth, especially because of how important it is to have a good breakfast to keep them focused on class."