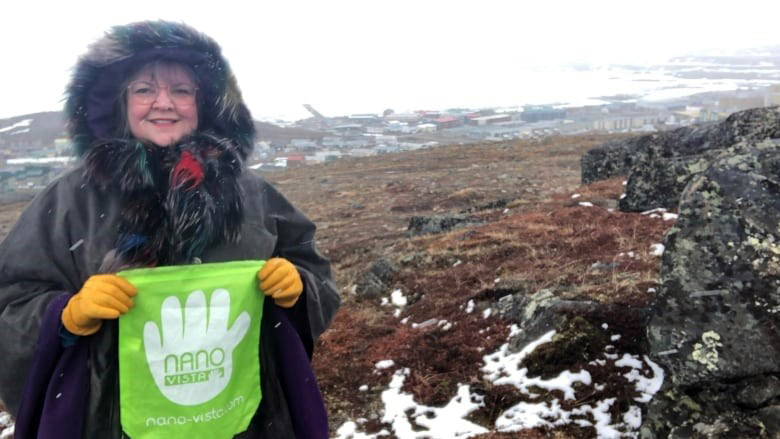 Pictured above: Optician Gayle Harrison holds one of the donated backpacks to be filled books for children in Baffin Island, NU.
Baffin Island's 800 residents will get the opportunity to see more clearly when The North West Company opens the new Inuulisautinut Niuvirvik optical clinic in Iqaluit, NU at the end of June.
Optician Gayle Harrison and optometrist Dr. Benji Itzkow will be serving patients when North West breaks into the optical industry through its Inuulisautinut Niuvirvik Optical Clinic. Given her background in serving remote communities with limited equipment available, Harrison was impressed by North West's extensive investments in providing state-of-the-art equipment to best serve the community. After the company project's hiatus in 2019 due to the pandemic, Harrison will soon be able to work with Canada's first teleoptometry system following the clinic's opening date of June 30, 2021.
Teleoptometry is the practice of using examination equipment that allows an optometrist to do a full eye exam from a different location. An optician such as Harrison, or a trained assistant, physically maneuvers equipment in the same room as the patient, while a doctor controls it from their remote office. This means that the Winnipeg-based Dr. Itzkow will have full camera view of the patient and the exam room while communicating with the patient in real time as he awaits for the opportunity to head to Baffin Island once COVID restrictions ease.
"My goal is first and foremost to provide the best care to a community that is long overdue for it," said Harrison, Optical Manager at Inuulisautinut Niuvirvik Optical Clinic. "The North West Company has invested highly in this project, including installing the first teleoptometry system in Canada right here. Usually, when I have done these projects, I am dealing with the most basic of equipment and supplies and doing the best I can. Not this time!"
Harrison notes that she also intends to train herself out a job by finding Baffin Island residents who wish to become licensed opticians following her stead. She envisions a future where community members "serve their community's health care needs."
While Harrison understands some residents might be hesitant to participate in public health care programs, she intends to rebuild that trust and a positive relationship with a special donation intiatiative, started with the support of generous suppliers and friends.
She plans to donate 200 parachute bags to school-aged children, which will include an Indigenous-focused children's book in each bag. Each backpack will be handed out to children after their eye exam. The donations will help build trust, raise awareness about Indigenous cultures and provide children with a book they can read with their new glasses.
To send your own book donation to children in Baffin Island, visit the Strong Nations Gifts & Books store page and narrow the search to age-appropriate titles for three- to 12-year-olds.
Choose a book and ship your purchase to:
Inuulisautinut Niuvirvik Optical - Attn: Gayle
PO Box 130, Iqaluit, NU X0A 0H0
If asked for a phone number and email for shipping, please use:
(867) 975-2086 and opticalmanager@justforyouIqaluit.ca