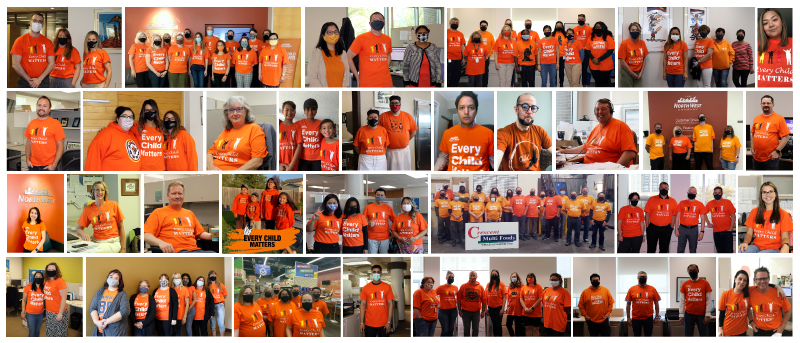 Pictured above: North West staff members from Gibraltar House wore orange on September 30.
The North West Company staff members showed their support and solidarity to victims of the residential school system by wearing orange at the end of September.
All Nor'Westers and their family members wore orange shirts on Orange Shirt Day as a way to honour residential school survivors and remember the children who were lost. They also had the opportunity to listen to the testimony of a residential school survivor, which sparked their interest to learn and do more – creating meaningful dialogue among colleagues.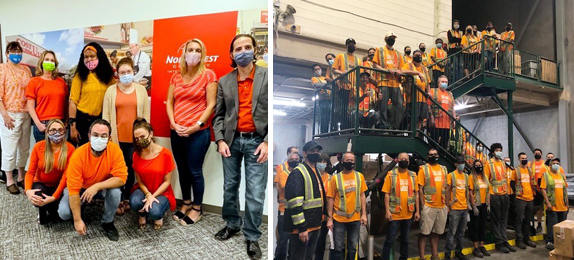 Pictured above: Nor'Westers at the front and back of the operations joined together on Orange Shirt Day and showed their support by wearing orange. (Left) North West staff members from Cost-U-Less, Boca Raton, FL and Winnipeg Logistic Service Centre staff members.
North West staff members of the cross-border subsidiary brands also learned the significance this day holds and showed their support, wearing orange too. Inspired by Orange Shirt Day, Vince Winter, AC Lakeside Store Manager, Sitka, AK, wanted to do more in his community and reached out to Claire Hill and Chuck Miller, members from Sitka Tribe of Alaska, for guidance and to band together to spearhead this movement.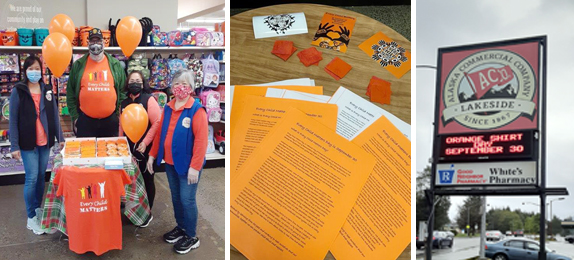 Pictured above: AC Lakeside Store Manager, Vince Winter with his team members at the patches stand they created (left); the information about Orange Shirt Day that was handed out; the store signage.
On September 30, AC Lakeside offered orange patches to its employees and to their customers to wear. The slogan "Every Child Matters" was translated to Tlingit – X'atulitseen HaaYatx'I – and they handed over some reading material about what this day represents to their customers and nearby students, as a way to encourage them to seek more information about this dark chapter in our history.
"The whole event in itself was very impactful. We had a great turnout of Indigenous and non-Indigenous people. We're just in awe of the outpour and the awareness that was created, the conversations it led to and are hopeful of the healing actions that will follow," said Vince Winter, AC Lakeside Store Manager. "Being able to partner with Claire Hill and Chuck Miller from the Sitka Tribe of Alaska, we were able to drive awareness citywide. If we don't take actions to heal we are bound to pass it on, we need to break the cycle."
September 30 was chosen for Orange Shirt Day because September is the time of the year children were taken from their homes to attend residential schools. Starting this year, this date has also been designated as the National Day for Truth and Reconciliation in Canada.