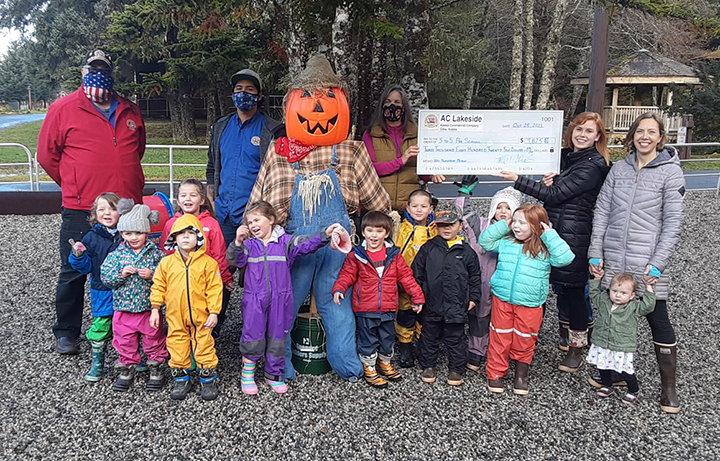 Pictured above: The AC Lakeside Store team presented the funds raised at the Pumpkin Patch to the 3 to 5 Preschool members.
Sitka families once again enjoyed the autumn activities while raising funds for the community's 3 to 5 Preschool.
AC Lakeside in Sitka, AK has supported the 3 to 5 Preschool's annual fundraising efforts for several years. Last year, due to the pandemic, the event was held for the first time in AC Lakeside parking lot which, in addition to helping keep people safe, also proved to be more successful than ever.
Thanks to last year's success, on October 23 part of the AC Lakeside parking lot was once again transformed into a Pumpkin Patch – complete with pumpkins, hay, autumn backdrops and props. This year some games were incorporated, including a balloon pop and pin pong toss, along with raffles, a photo booth and a live DJ.
Pictured above: Children and their families had a great fun time at the Pumpkin Patch.
The famous AC Lakeside BBQ Squad helped grill and prepared delicious food to sell, working side-by-side with 3 to 5 Preschool volunteers, parents and other vendors who also supported the event. AC Lakeside also donated pumpkins that were offered for sale during the event, selling nine pallets in total – three more than last year – raising $3,825 which was donated to 3 to 5 Preschool.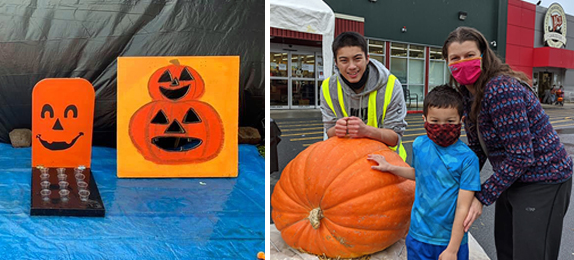 Pictured above: some of the games that were held this year (left) and the winner of the jumbo pumpkin.
"Our 3 to 5 Preschool can't thank you enough for making our Pumpkin Patch fundraiser happen each year and especially during this pandemic. So many came to buy their pumpkins and to see the smiles on kid's faces was wonderful," wrote Marcia Hirai, 3 to 5 Preschool Director. "Having the event in your parking lot draws so many more people and we so appreciate the time and effort you and your staff go to make it so successful. We appreciate all that AC Lakeside does to support our town, individual groups and non-profits especially."