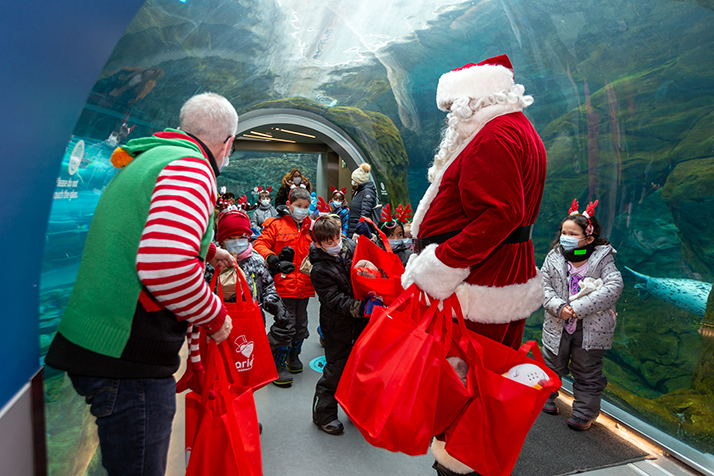 Pictured above: Santa and his helpers hand out the gift bags to the children.
Children from four schools in Winnipeg, MB were treated to a Winter Wonderland, thanks to Variety Manitoba and the support of three Winnipeg-based organizations.
Every year, Variety Manitoba hosts Winter Wonderland – A Variety Holiday Celebration for children from disadvantaged families. This year Variety partnered with Assiniboine Park Conservancy to provide a holiday experience to 650 elementary age students from four schools – Lavallee School, Hampstead School, Frontenac School and St. George School, at the Assiniboine Park Zoo on November 22 and 23.
The children had a memorable day at the Zoo filled with love, kindness and fun activities such as exclusive tours around special sections like the Journey to Churchill exhibit to see the polar bears. They were treated to a delicious lunch and received a gift bag with essential items, snacks and a toy. The North West Company was happy to support by providing socks to be included in the gift bags. The other two organizations that helped make this event possible were Salisbury House and Pratts Wholesale & Food Service.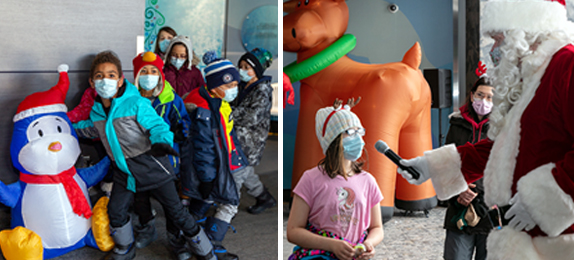 Pictured above, from left: Children enjoyed the tour around the Zoo and their time with Santa.
"Variety is so grateful for The North West Company and the other caring supporters who helped us make sure that all of the children who attended Winter Wonderland had a special and fun day this holiday season," said Ashley Tavares, Volunteer & Community Event Coordinator at Variety, the Children's Charity of Manitoba. "We are extremely grateful for your continued generosity towards Variety's kids; your support really helps make a difference. Thank you so much for helping Variety help kids."