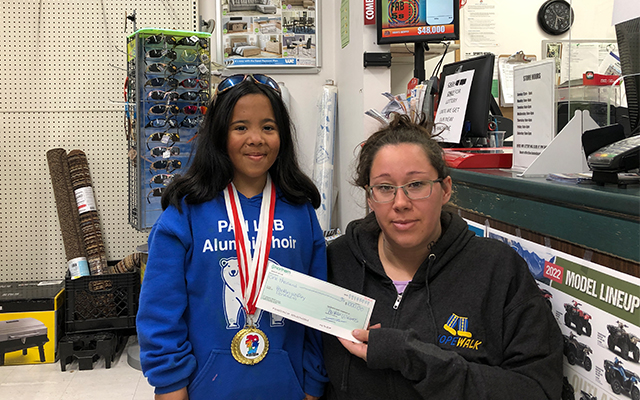 Pictured above: Jenna Tottle (right), General Merchandise Supervisor of the Rigolet Northern Store, presenting the cheque to Brooklyn Wolfrey.
A proud member of Rigolet, NL has qualified for the second time to take part in the World Dwarf Games this summer.
Brooklyn Wolfrey will compete and proudly represent Canada in the 2022 World Dwarf Games, to be held in Germany from July 30 to August 7.
Wolfrey represented Canada in the World Dwarf Games for the first time in Guelph, ON in 2017 when she was just nine years old. She won two gold medals in the competition, securing first place in swimming and field hockey. She also competed in categories such as track & field and badminton, where she placed fourth in singles and doubles.
Rigolet Northern Store was glad to support Wolfrey's fundraising efforts to attend the championship in Germany by providing a monetary donation.
"This kind of representation of the community is very essential, and helping that happen is something Northern can be very proud of," said Darrin Smith, Rigolet Northern Store Manager.
The World Dwarf Games, considered to be the biggest sporting competition for athletes born with dwarfism, is held every four years. Seven hundred athletes with dwarfism from around the world have competed in the Games since they began in 1993.