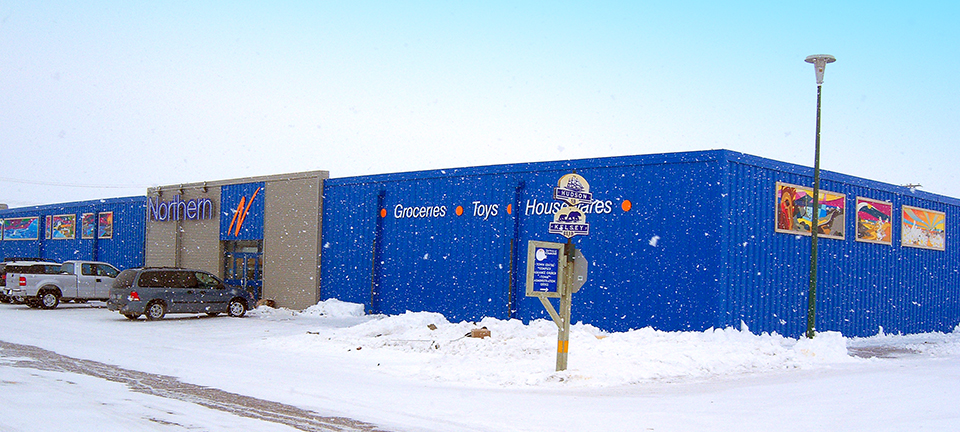 Pictured above: The Northern store in Churchill, MB.
Our Community Promise
The North West Company Inc. is proud of the active role we play within the communities we serve, striving to make a positive, progressive difference. Our contributions within the community of Churchill, MB, are a testament to our commitment.
Churchill is located on the west coast of Hudson Bay at the mouth of the Churchill River in northeastern Manitoba. It is the northern-most seaport of Canada. Churchill is home to the Itsanitaq Museum which houses one of the finest collections of Inuit carvings, dating back to 1700 BC. It is known to be the Polar Bear and Beluga Whale capital of the world, and tourism and Eco-tourism are major contributors to the Churchill economy.
There are no roads to Churchill – the community is only accessible by air and train. Churchill's airport is located 5.6 km southeast of the town, while the train station is on the shore of Hudson Bay inside the town, with the Winnipeg-Churchill train departing semi-weekly from Winnipeg on Sundays and Tuesdays. The nearest major city is Winnipeg, 1,000 km south of Churchill.
Churchill has a population of 870 residents (according to Statistics Canada's 2021 census) comprising mainly people of First Nations, Metis, and Inuit descent. The majority of the population speaks English and a minor portion of people speak French, Inuktitut, Dene, and other languages.
Did you know?
North West is proud of the positive impact we have on the community.
1. Employment: We are one of the most prominent employers in Churchill, with our Northern store employing 14 individuals.*
2. Capital Investment: Northern has made a $1,045,343 capital investment in the Churchill store over a 10-year period.*
3. Annual Economic Impact: Northern is making a positive impact in Churchill, with $769,506 annual economic impact in the community.*
Churchill Northern Store Manager, Ian MacDonell, and his team are significant community supporters.
"Churchill is an incredible community to experience. It is a great place to raise a family and my kids love it here. Churchill is a close-knit community where community members look out for one another and have a great community pride," shared MacDonell. "Churchill has a thriving tourism industry that is the backbone of the community. It's always interesting to have the opportunity to interact with customers from all over the world who come to experience the beauty and hospitality of Churchill. We are lucky enough to have the opportunity to live here and experience it every day."
*For the year ending 2020