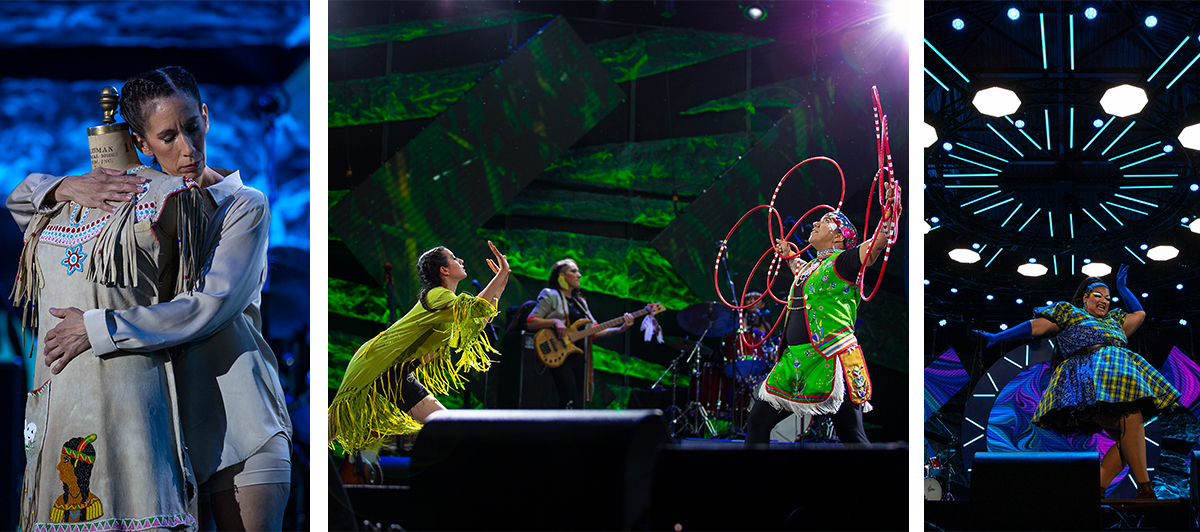 Pictured above: Featured performances by Barbara Diabo (left), Katie Couchie and Beany John, and Feather Talia from The Bannock Babes (right). Photo credit: Amy Zinn, courtesy of APTN.
After two years of virtual celebrations, APTN Indigenous Day Live (IDL) returned to an in-person celebration on June 18 at The Forks in Winnipeg, MB, and The North West Company was there to mark the occasion with them!
IDL is an annual event that commemorates the diversity of Indigenous Peoples, cultures, identities and experiences through artistic performances. This year, IDL transitioned from a traditional concert experience to an innovative cultural showcase that shined a light on this year's theme, "Celebrating Our Lands." One of the new additions to the event was a set of vignettes showcasing Canada through the lens of Indigenous Peoples and demonstrating their strong connection to the lands.
"APTN Indigenous Day Live 2022 was a brilliant success, thanks in part to the continued support of The North West Company," said Monika Ille, CEO of APTN. "This year's event emphasized the important relationship that Indigenous Peoples have to the lands and honoured those who work tirelessly to protect them. We were thrilled to return to an in-person celebration this year and we can't wait to show our audiences what next year has in store!"
IDL 2022 entertained the crowd with a wide variety of pre-show celebrations including an artisan market, cultural stage performances, partner booths, food vendors and more. The IDL live show began at 9 p.m. CT at The Forks' main stage and was broadcasted across all APTN channels for viewers across the country to enjoy! This year's event celebrated gender diversity and Indigenous women, with every act led by an Indigenous woman or a member of the 2SLGBTQ+ community.
Music director Daniel Roy and artistic directors Andy Moro and Tara Beagan worked tirelessly to organize an extraordinary blend of creative cultural collaborations that highlighted the achievements of Indigenous Peoples across Turtle Island. This year's event featured performances by Celeigh Cardinal, Crystal Shawanda, Tomson Highway and many more!
Pictured above: Nor'Westers engaged with the attendees at the North West Company booth during the IDL pre-show (left) and Nicole Stecki, the winner of the Indigenous Language Contest 2022, with her prize, a Northern/NorthMart gift card (right).
As an event sponsor, North West set up a booth to welcome attendees and commemorate the day. At the booth, Nor'Westers spread awareness about North West's Healthy Horizons Foundation and the Indigenous Language program adopted in Northern and NorthMart stores. Attendees were encouraged to scan QR codes of sample fruits displayed on the signage to hear their translation in an Indigenous language and were also invited to participate in the Indigenous Language contest, challenging them to translate two of six Indigenous words to English for a chance to win a $200 gift card.
Nicole Stecki, a participant at IDL 2022, emerged as the winner of the Indigenous Language Contest. Stecki was born in Winnipeg but has family ties to Okanese First Nation in Saskatchewan. She travels there throughout the year to visit her family and to attend community pow wows.
"My family and I really enjoyed the event," Stecki said. "We enjoyed the North West Company tent where the language contest was held and apples and bananas were given away, which my niece absolutely loved!"