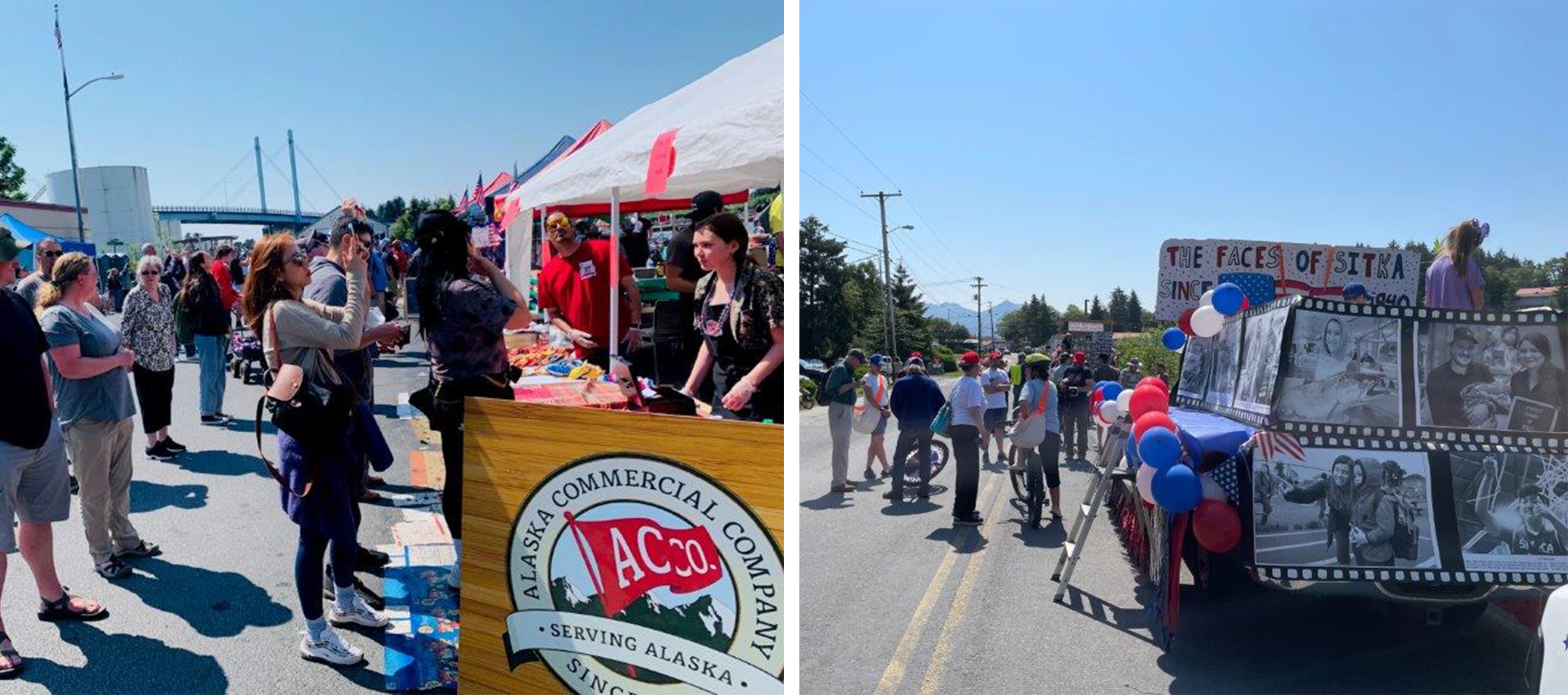 Pictured above: Festival attendees visiting the AC Lakeside store tent (left) and participants taking part in the 4th of July parade (right)
Over 11,000 people were in attendance for the Fourth of July celebration in Sitka, AK, and Alaska Commercial Company AC Lakeside store was there to mark the occasion with them.
The celebration started early this year, being held for three days during the long weekend, from July 2-4. Numerous festivities were held in Totem Square and downtown to entertain participants at the event, hosted by the Sitka Historical Society and Museum.
On July 2, participants were mainly residents of the town and self-guided tourists. Over the next two days, July 3 and 4, tourists and people from cruise ships stationed in the ports of Sitka had the opportunity to attend the festival, pushing the number of participants into the thousands.
The festivities comprised several food & carnival game booths including a pie-eating contest, sack races, wheelbarrow races and many cultural performances. There was also a 4th of July parade with the theme 'The Many Faces of Sitka'.
During the course of the festival, AC Lakeside set up a triple tent and hosted a BBQ, raising funds through sales for the Muscular Dystrophy Association (MDA) and Sitka Historical Society and Museum (SHS&M). On July 2, the store chose to raise funds for the MDA Kings of Kids initiative, successfully raising $5,563 through sales. On July 3 and 4, AC Lakeside managed to gather a whopping, $7,843 for the SHS&M's Old time 4th of July fundraiser.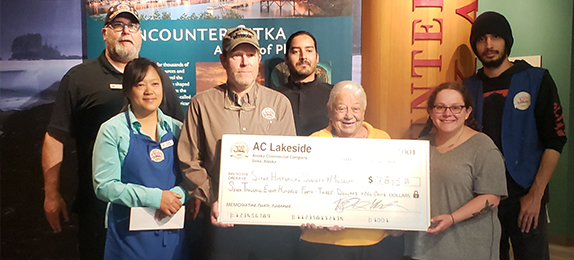 Pictured above: AC lakeside store crew presenting the cheque for the money they raised to Sabrina Jenkins, President Sitka Historical Society & Museum (left) and Nicole Fiorino, Curator of Collections & Exhibits, Sitka Historical Society & Museum (right)
AC Lakeside was also one of the honoured sponsors of the event for being one of the top fundraisers last year. Vince Winter, AC Lakeside branch manager, and his store crew were proud to participate and help raise funds for the non-profit organizations.
"We are honoured to once again support the Sitka Historical Society and Museum on their missions to preserve and promote the events, stories and artifacts of the human history of Sitka, as part of the Pacific Northwest coast of North America, to inspire, educate and benefit the public and future generations," said Winter.
The MDA Kings for Kids is a yearly program supported by the entire Alaska Commercial Company community, with funds raised then pledged to support families living with muscular dystrophy, ALS, and other life-threatening diseases.