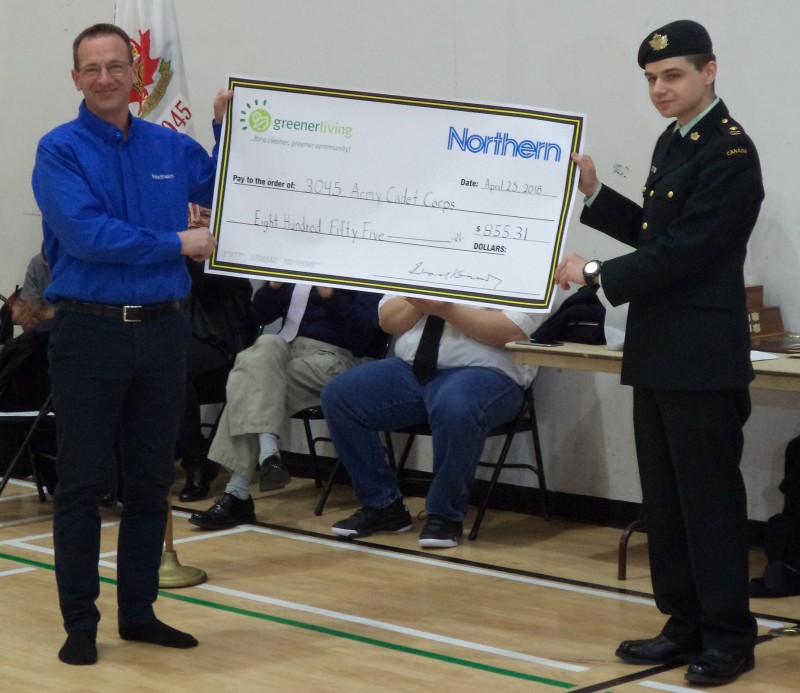 (Photo: Northern store manager John MacKenzie presents a Greener Tomorrow distribution to Second Lieutenant Adrian Dzioba of the 3045 Royal Regiment of Canada Army Cadet Corps Arctic Bay)
The Arctic Bay Army Cadet Corps will be spending a day at the beach in Arctic Bay, Nunavut – to clean it up.
John MacKenzie, the Northern store manager in Arctic Bay, was pleased to present a cheque for $855.31 to the Cadets, as a Greener Tomorrow grant.
The funds will allow the Cadets to clean Arctic Bay's beach area, which will benefit both the community and the wildlife.
MacKenzie was pleased to see the Greener Tomorrow funds going to the Cadets, who see themselves as stewards of the land. "We are all connected on this planet and hold equal responsibility in its protection for future generations," he says.