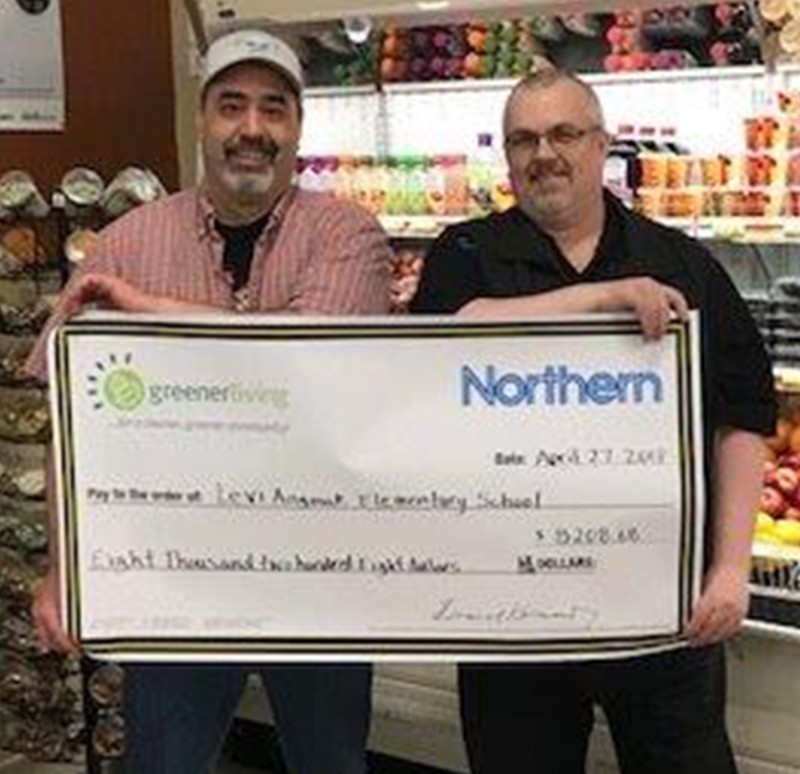 (Photo: Darren Price, Northern Store Manager (right) presents a Greener Tomorrow grant to Tony Phinney, Principal of Levi Ahmak Elementary School in Arviat, NU.)
Students can concentrate and learn better throughout the school day when they've had a nutritious breakfast. Thanks to a Greener Tomorrow grant, kids at the elementary school in Arviat, NU, get to kick off the school day with bellies full of healthy food.
Arviat Northern Store manager Darren Price presented the grant in April to Tony Phinney, Principal of Levi Ahmak Elementary school, to fund their school breakfast program. The funds will be used to purchase nutritious foods and upgrade kitchen equipment.
Price believes the grant will make a large impact on the community.
"All school-age children are encouraged to come for breakfast to start their day," he explained. "This makes learning easier, and for happier and healthier children. To see the smiling faces of the children who benefit from this program speaks more than words can describe."
On hearing the news of the grant, the staff and students of the school were very excited. "Now we can offer even more healthy options for our children who come to the breakfast program," said Phinney.