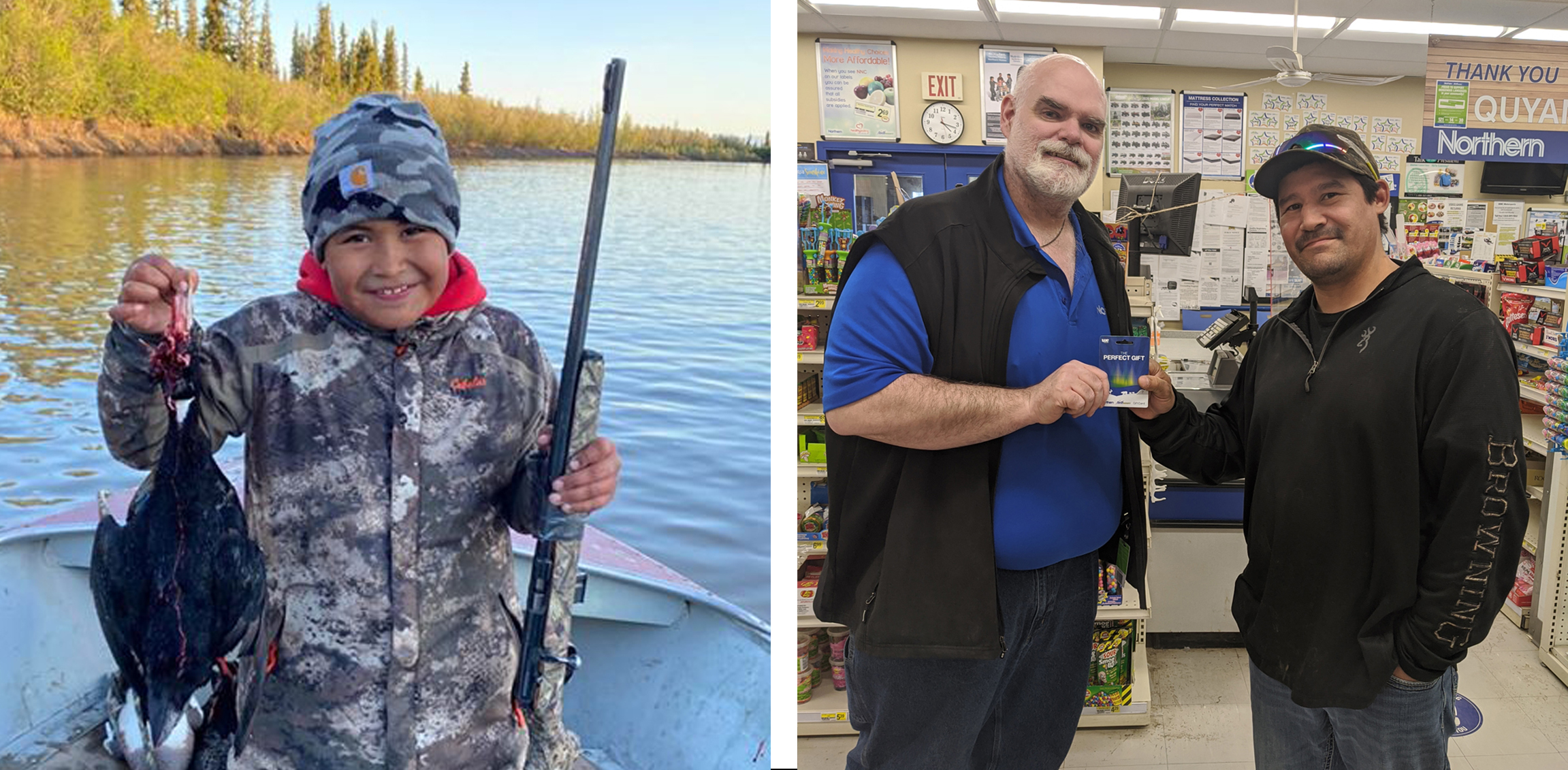 Pictured above: (Left) Aklavik's Patrick Gordon, with his catch while on a hunting trip with his father and some friends. (Right) Ashton Semple receives a Northern gift card for the same photo submission.
The Whatcha doin' to #PlankTheCurve? contest has had great participation and some fantastic submissions since arriving in the Northwest Territories at the end of May.
The campaign was originally hosted by Nunavut News to raise awareness about COVID-19 and flatten the COVID-19 curve. Flattening – or "planking" – the curve can save thousands of lives by avoiding overwhelming healthcare facilities and workers who are treating patients who have tested positive with the virus. Community members are asked to post photos online showing things they are doing to help plank the curve.
The contest expanded from Nunavut into the North West Territories, hosted on the NNSL Facebook page, thanks to high engagement and positive feedback due to a fruitful partnership with Nunavut News.
The North West Company is once again proud to support NNSL News and the NWT communities by being the prize sponsor of the weekly photo contest. A random winner is chosen every Friday to win a $150 Northern/NorthMart gift card.
The response has been overwhelmingly positive by the community members with multiple unique entries from several communities, including Fort Good Hope, Fort Simpson, Inuvik, Tsiigehtchic, Hay River and Aklavik. Entries have ranged from community members making crafts such as earrings, and making drygeese, to enjoying beautiful sunsets and sunrises.
Pictured above (Left) Ashley Menicoche, social distancing with her family near the lake at the Cabin West of Fort Simpson. #PlankTheCurve contest winner. (Right) Hay River's Brittany E. Hendrickson submitted an adorable picture of her newborn baby going out for a short ride. Head to the NNSL News Facebook page to join the fun!
"It's a great idea, it encourages the youth to go out on the land and explore their roots and culture rather than staying inside on their computers, and anything that gets them interactive with the hunting, fishing and learning from their parents will enrich them for the rest of their lives," shared Aklavik Northern Store Manager Mike Helms.
"The campaign is going great and people seem to be taking their role in the community seriously! They seem to also be having some fun with it and taking photos that will be memories for life. Some of the entries are postcard worthy! We're really happy with how things are going," says Laura Whittle, Nunavut News' Advertising Representative. "Having a way to showcase your contribution to your community during this time promotes COVID-19 awareness within the territory. I think the prize sponsorship communicates to people in the NWT that The North West Company is proactive in wanting to raise COVID-19 awareness, and has concern for the overall well-being of their customers in vulnerable areas."
All residents of the Northwest Territories can submit their entries on NNSL's Facebook page.