2020 was undeniably a different year, and one to remember for many years to come. The Novel Coronavirus (COVID-19) presented challenges, unparalleled to anything we have ever faced. Despite the hardships, The North West Company Inc. worked closely with communities to persevere, find innovative solutions and overcome these challenges together. In this issue we will take a look back at 2020 and highlight some of the remarkable stories and events that showcased a spirit of collaboration and community during a year unlike any other.
Stores joined forces to fight COVID-19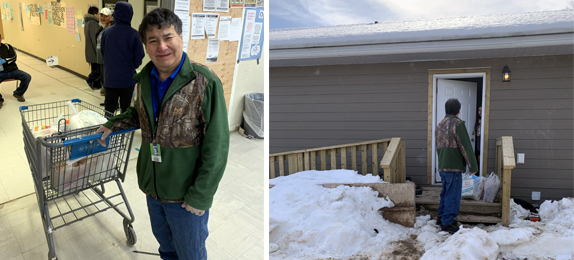 Pictured above: Joe Mason, Northern store staff member in St. Theresa Point, MB, delivered grocery orders to community members.
North West's stores and their employees have managed to go above and beyond in order to ensure that essential goods and services continued to be available to customers in a safe and secure manner. Almost immediately after COVID-19 was declared a global pandemic, cleanliness and sanitizing measures were rolled out across all stores; phone numbers and ecommerce platforms were also launched for grocery delivery and pick-up service in many communities. All stores ramped up signage and visual aids to encourage physical distancing and in-store safety precautions.
Pictured above: The Northern store in Portage La Loche, SK, pre-packed customer orders to be delivered or picked up to promote physical distancing.
A prime example of safe practice is when the Northern Store in Portage La Loche, SK, was able to continue providing service to the community when it was severely affected by the virus during the first wave of COVID-19.
North West collaborated to ensure communities could access essentials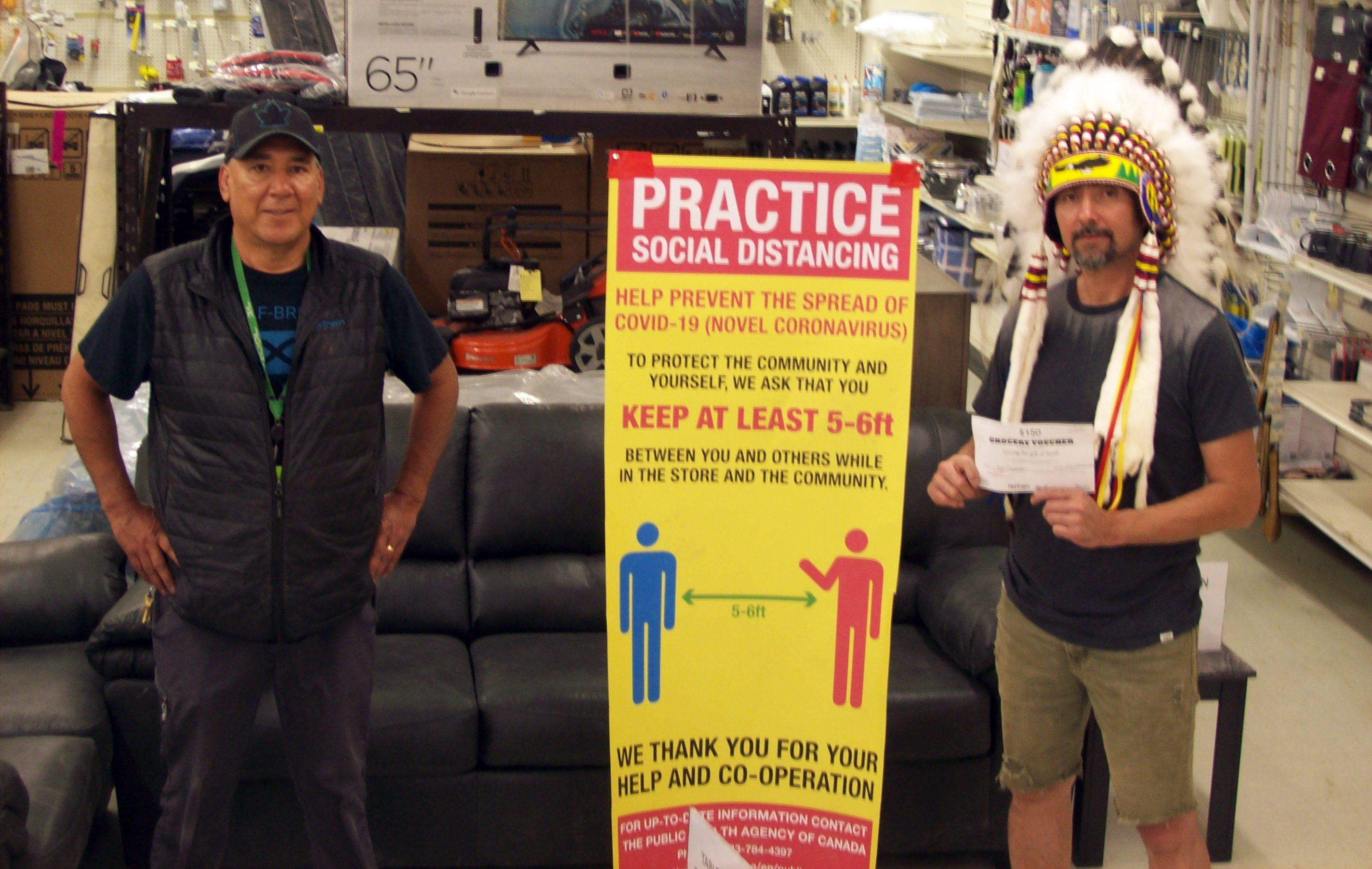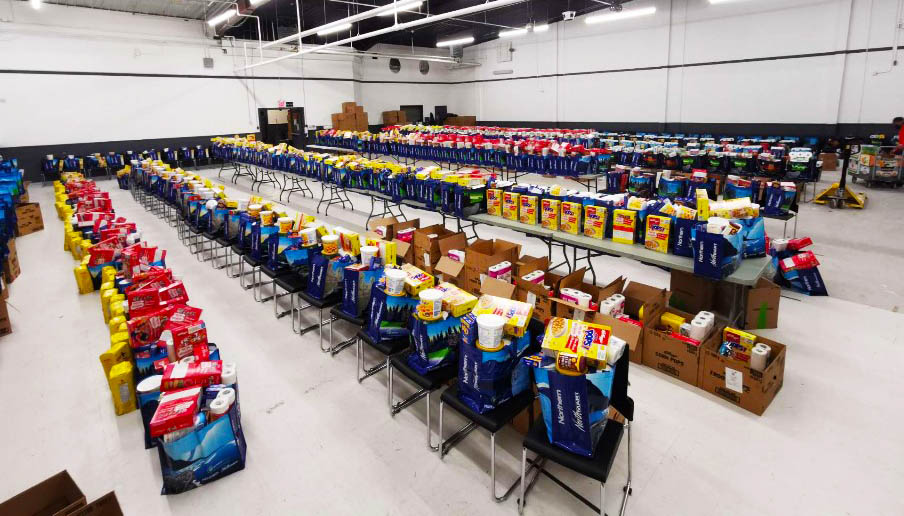 Pictured above: (Left) Cumberland House Store Manager, Gerald Favel, handed over food vouchers to community Chief Rene Chaboyer to distribute to families. (Right) Food hampers were assembled and stored for delivery to households in Rankin Inlet.
The North West Company partnered with The Sprott Foundation and Second Harvest to enable a combined $3.6 million food donation to help ensure food security during the pandemic. The aid was provided to residents of over 120 communities across Canada.
Northern and NorthMart stores also joined forces, on multiple occasions, to ensure that during uncertain times, their communities continued to have access to essential goods and services. From making deliveries to households to donating food and holiday dinners, stores went the extra mile to convey their community spirit.
Working together for our communities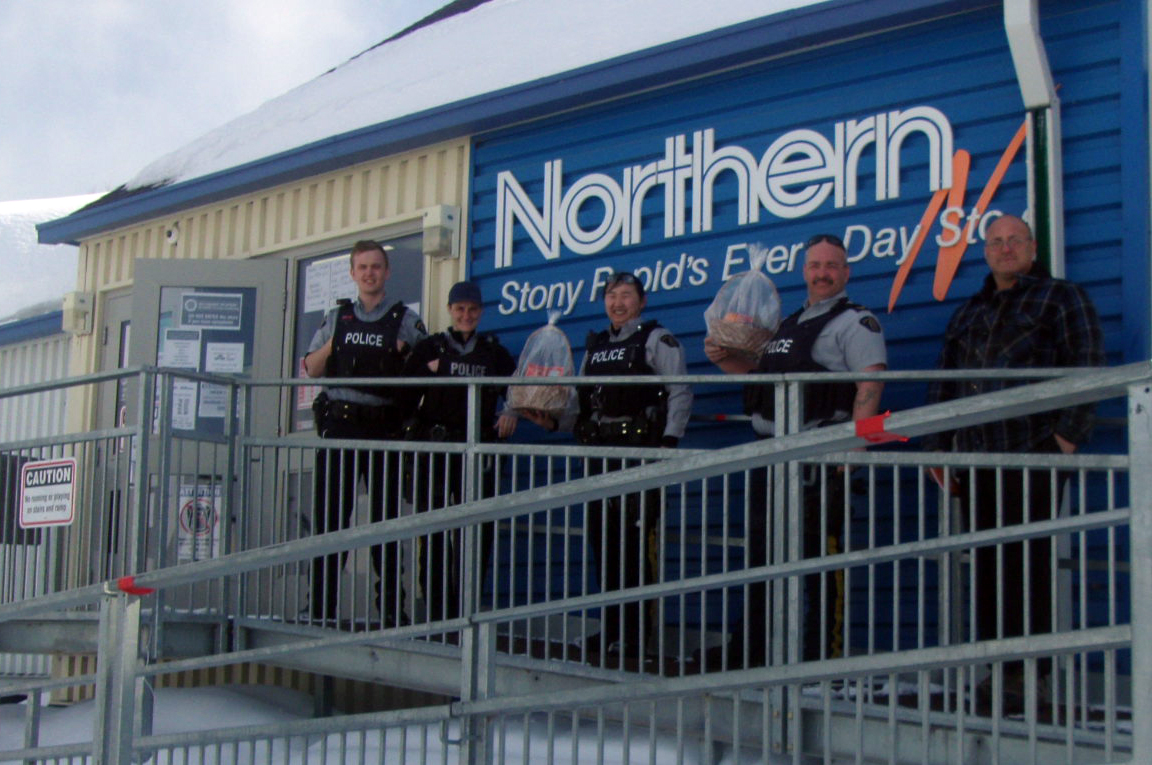 Pictured above: (Left) Stony Rapids RCMP officers with fruit hampers in hand ready to brighten the day of elders in the community. (Right) NorthMart Store Manager, Kevin Giesbrecht and the IC Regulators staff members presented food vouchers to be given to people in need in Inuvik, NT.
Northern and NorthMart stores are grateful for the support given by community leaders, organizations and community members who played an important role throughout the year in our fight against COVID-19. Thanks to their generous support we were able to expand the assistance to those in need and make deliveries efficiently and promptly.
Brand new Northern store brings joy to Pelican Narrows
Pictured above: The new Pelican Narrows Northern store.
Northern was pleased to open a new store in Pelican Narrows, SK in late November, to be able to provide safer access to food and everyday essentials to residents. The new store was developed and opened in collaboration with the local community and Peter Ballantyne Cree Nation's Chief and Council. Despite the challenges and hurdles caused by the global pandemic, the store opening was a major success. As a way to celebrate the opening, festivities took place in a creative and safe manner. The celebration was even brought to each and every household with the delivery of a holiday food hamper.
A year to remember
2020 truly was a year unlike any other. Despite the challenges and difficulties faced by the pandemic, the resilient efforts and the spirit of togetherness was clearly seen in a meaningful way across all the communities The North West Company Inc. serves. What a year!