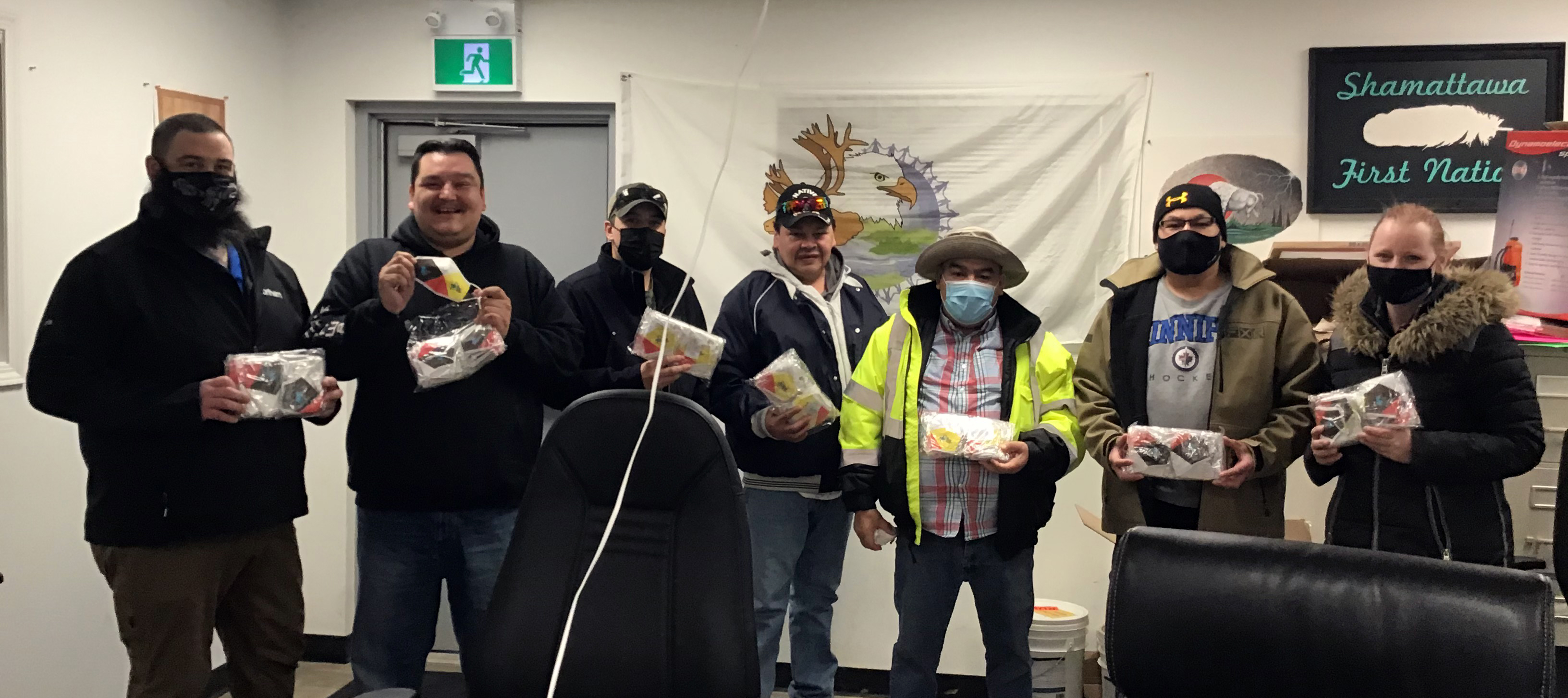 Pictured above: Shamattawa Northern Store Manager, Kristopher Ditch presented the children face mask package to Shamattawa Chief and Council.
Children from First Nation communities in Manitoba have received a special delivery of face masks to help protect them from COVID-19, all thanks to the collaboration of three Winnipeg-based organizations.
The Assembly of Manitoba Chiefs (AMC) worked in partnership with the Children's Hospital Foundation of Manitoba (CHFM) to donate 20,160 face masks to children in all 63 First Nations Early Learning and Child Care programs in Manitoba.
The North West Company reached out to the AMC to offer support in distributing the protective face masks to 24 of the First Nation communities. The AMC welcomed the assistance, and The North West Company was pleased to rally to the cause. Once the face mask packages arrived at North West's distribution center on March 3, staff worked diligently to quickly ship the masks to the communities.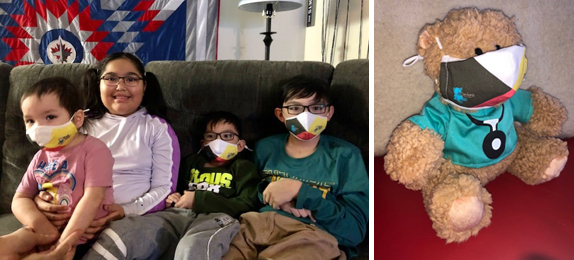 Pictured above: First Nation children wearing the three-ply with a removable filter mask that have been donated to them. The masks feature the colours of a First Nations medicine wheel as well as two bears, the Jordan's Principle Spirit Bear and the Children's Hospital Foundstion's Dr. Goodbear.
Photo credits: Children's Hospital Foundation of Manitoba and Assembly of Manitoba Chiefs
AMC Grand Chief Arlen Dumas was happy to see everyone's effort and expressed his gratitude on AMC's social media. He wrote, "We thank both the Children's Hospital Foundation of Manitoba for their partnership and also The North West Company for their assistance in distribution of these masks at no charge. We are so pleased to see the amazing things that can happen when we all work together! Ekosi."
Providing the face masks to the First Nations communities is a joint effort to protect children and their families during the pandemic. The North West Company assisted with the distribution in the following communities:
· Barrens Lands First Nation
· Berens Rivers First Nation
· Bunibonibee Cree Nation
· Garden Hill First Nation
· God's Lake First Nation
· Little Grand Rapids First Nation
· Manto Sipi Cree Nation
· Marcel Colomb First Nation
· Mathias Colomb Cree Nation
· Mosakahiken First Nation
· Northlands First Nation
· Norway House Cree Nation
· O-Pipon-Na-Piwin Cree Nation
· Pauingassi First Nation
· Pimicikamak Cree Nation
· Red Sucker Lake First Nation
· Sapotaweyak Cree Nation
· Sayisi Dene Denesuline First Nation
· Shamattawa First Nation
· Tataskweyak Cree Nation
· York Factory First Nation, and
· Wasagamack First Nation