Pictured above: Main storefront of Inuulisautinut Niuvirvik, the first wellness hub in Iqaluit
Residents of Iqaluit, NU, have a first-of-its kind wellness hub in their community, with the opening of The North West Company's newest – and most unique – store on July 8.
As a retailer with a special focus on providing better-for-you groceries and cutting-edge pharmaceutical and optical services, the exciting new store strives to live up to its Inuktitut name, ᐃᓅᓕᓴᐅᑎᓄᑦ ᓂᐅᕕᕐᕕᒃ (Inuulisautinut Niuvirvik) as "a place to get things for a healthy body and mind."
Located at the heart of Iqaluit, Inuulisautinut Niuvirvik plays a special role in positively impacting the lives of over 10,000 residents, along with thousands of others living in surrounding communities.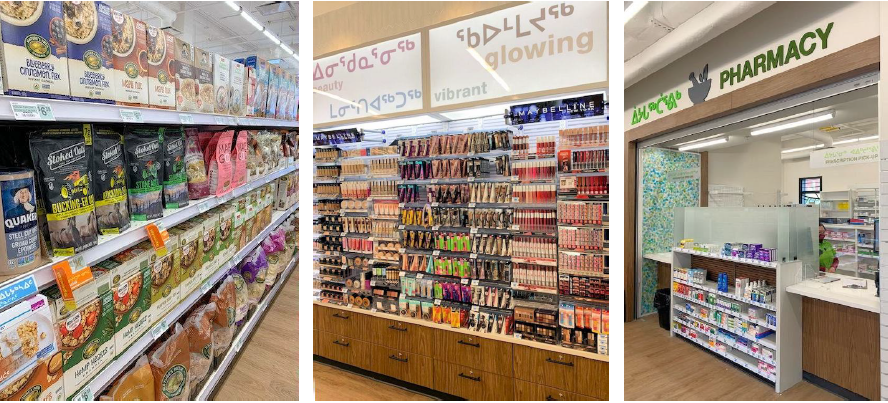 Pictured above: Parts of Inuulisautinut Niuvirvik's grocery section (left), beauty product catalogue, and pharmacy.
Innulisautinut Niuvirvik's new pharmacy extends beyond prescription refills and over-the-counter purchases, offering blood pressure and glucose monitoring, plus advice and assistance with non-prescription drugs and other medication use. The in-store optical clinic, managed by Dr. Benji Itwzkow and optician Gayle Harrison, is a first for Nunavut, offering full eye exams, prescription glasses and sunglasses, contact lenses, eyeglass repairs, dry eye education and other eye health advice.
Iqaluit can pride itself on the store's teleoptometry program, which is the first in Canada to implement technologies that allow Dr. Itzkow and Harrison to provide services together despite being nearly 2,300km apart physically.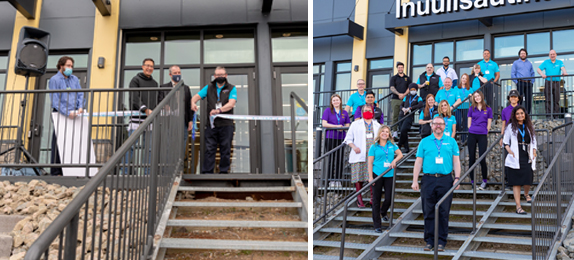 Pictured above: Iqaluit Mayor Kenneth Bell cuts the ribbon at the store's inauguration ceremony (left). Store manager Tom Kennedy along with store staff and part of the team involved in the development of the new store.
Residents in Iqaluit are also excited about the introduction of the north's first-ever branch of Booster Juice, a chain of juice and smoothie bars dedicated to providing delicious, convenient and nutritious drinks.
"Everything starts with a healthy you," says store manager Tom Kennedy. "We worked hard to select products and develop recipes, blogs and signage to make healthy living easy."
During the ribbon-cutting ceremony on July 8, Iqaluit Mayor Kenneth Bell and North West Company Board Member and President of NVision Insight Group Victor Tootoo gave short speeches to commemorate the event. To mark the occasion, the store made a $5,000 donation to the Joamie Elementary school breakfast program.
"We are happy to welcome Inuulisautinut Niuvirvik to Iqaluit," says Mayor Bell. "The community is excited about the new services and employment opportunities the store will offer and, of course, the Booster Juice."