Pictured above: Elders at the Clan Mothers Healing Village and Knowledge Center site welcoming volunteers with a smudge ceremony
Following six years of dedicated efforts, the Clan Mothers Healing Village is getting ready to open its Healing Village and Knowledge Centre to all girls, women, and members of the 2SLGBTQQIA+ community who are in need of a place to recuperate and recover from traumatic experiences.
The Clan Mothers Healing Village was formed in 2015 by a coalition of Elders who saw the need for a more comprehensive and medium-to-long-term approach to sensitive issues faced by vulnerable persons, helping address the growing need for solutions to systemic, multi-generational traumas. The village Elders, who have been addressing issues relating to domestic violence, addictions and sexual abuse for years – if not decades – saw that Indigenous paradigms are key to creating meaningful change in their programs. The soon-to-be-completed Healing Village and Knowledge Centre is the culmination of their efforts as a place where holistic Indigenous methodologies will empower its participants in their daily lives.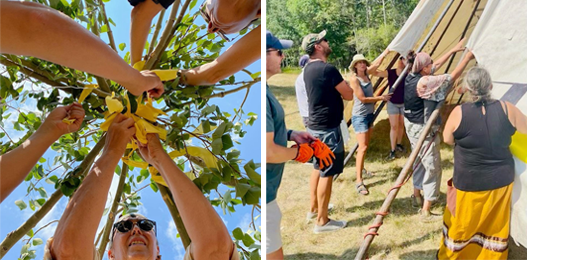 Pictured above: (Left) Volunteers constructing the village's sweat lodge. Volunteers putting up the Grandmothers' Tipi.
Following its opening, the Clan Mothers Healing Village will hold retreats and programming designed under Indigenous principles and perspectives, including song, dance, ceremony, and land-based activities. The rationale behind the approach is to address issues at the heart before trying to change anything in the mind. Camp locations and dates are also kept confidential to protect attendees.
The Healing Village and Knowledge Centre will strive to not only become an off-the-grid institution equipped with environmentally friendly utilities structures, but also to become a sustainable social enterprise that can train its participants for opportunities with the business arm of the Clan Mothers: Clan Mother Earth Enterprises. Participants in the village are invited to become strong leaders, taking their abilities into their community upon returning from the village to create a rippling effect of positivity.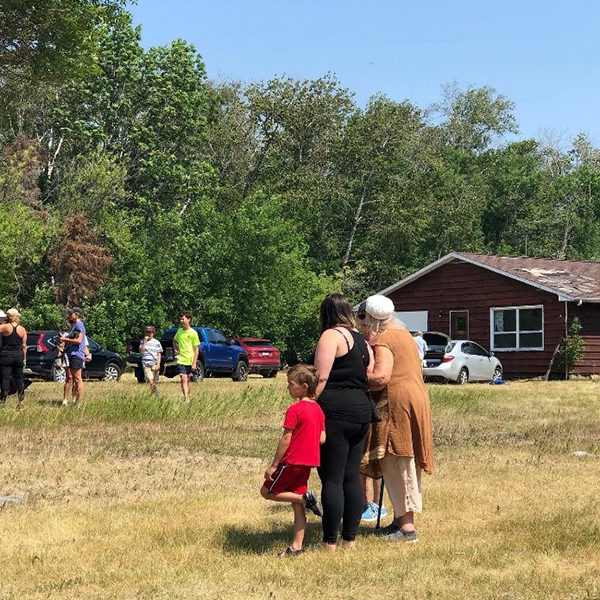 Pictured above: Elder May Louise Campbell speaking with volunteers.
The North West Company Inc. was proud to support the Clan Mothers Healing Village by donating cleaning supplies that assisted in the recent clean-up efforts around the village site.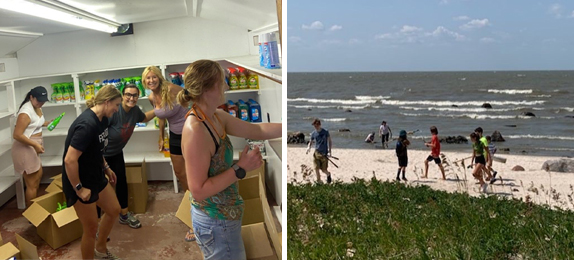 Pictured above: (Left) Volunteers putting away cleaning supplies donated by North West. Volunteers cleaning up the beach.
"The Clan Mother Healing Village is so much more than the infrastructure that will be built on this beautiful land," says Kristie Pearson, Fundraising Chair of the Clan Mothers healing Village. "It is about the people and the healing of the people. A village needs a great community to thrive and we are so grateful to all of you for becoming part of our community."