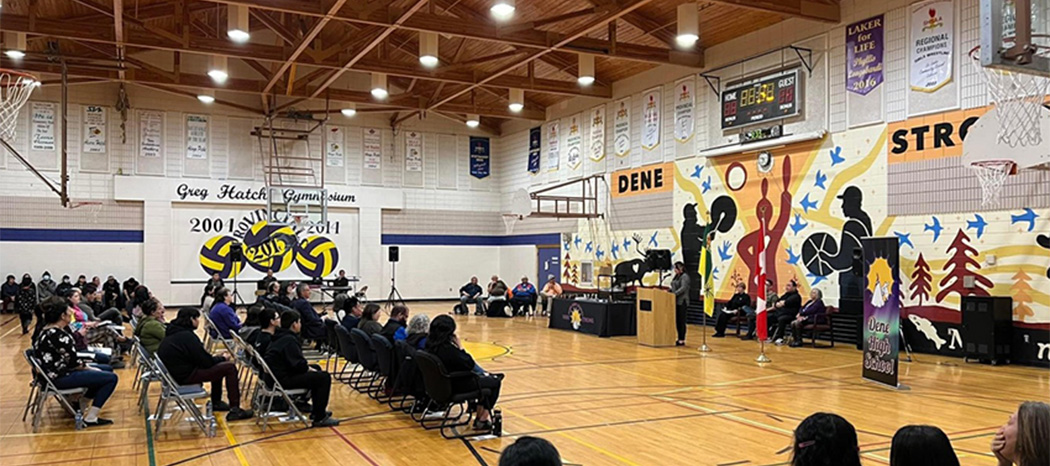 Pictured above: The celebratory book launch of the Dene Strong Publication project held at the Dene High School in Portage La Loche on May 10, 2022.
In May, residents of Portage La Loche, SK were thrilled to attend the launch of a book that celebrates the Dene People through their community stories.
The idea for the Dene Strong Publication Project began three years ago when Shane Janvier, Community School Coordinator at Dene High School, was inspired by a YouTube video, Dene Heroes of the Sahtu directed by Mary-Anne Neal, editor of the four volumes of the Dene Heroes of the Sahtu books.
Janvier wanted to do something similar for his community of Portage La Loche, and reached out to Neal to help him get started. The mission of the project was to shift society's views of the Dene people.
"If I can change one person's perspective, I know I have made a difference," said Janvier, now the Dene Strong Publication Project Manager.
Neal came on board as Project Director and travelled to Portage La Loche in October 2021 to meet with Janvier and get the project started.
During the initial stages, Neal and Janvier visited the community middle schools and Dene High School, presenting the project to 179 students from Grades 7 to 12. They also presented the project to 30 students of Gabriel Dumont Institute and met with 80 community members, community leaders and youth. In the end, more than 40 stories were compiled for publication.
More than 1,500 copies of the Dene Strong Publication book were printed, aiming to honour the Dene people and help preserve their heritage through stories. To mark the occasion, a book launch celebration was held in the Dene High School gymnasium to showcase the resilience of the Dene spirit, with around 500 people attending. The event featured speeches, cultural demonstrations, and a circle dance followed by a BBQ feast.
Pictured above: La Loche community members displaying their support for the event (left). Portage La Loche Northern Store employees Gary Ray and Leanne Giroux were recognized for the store's involvement (right)
A copy of the book was presented to each person who contributed their stories and photographs for the project. The books were also available for purchase at the launch.
Portage La Loche Northern Store contributed to the celebration feast by providing food and refreshments worth $3,300. Northern Store Grocery Manager Gary Ray and Administration Manager Leanne Giroux represented the store and received a standing ovation from the people for his dependable support in the community.
"I was proud to be a part of this event and loved how the town came together to bring the Dene Strong Publication to fruition, and to celebrate this wonderful event," said Ray, Northern Store Grocery Manager.