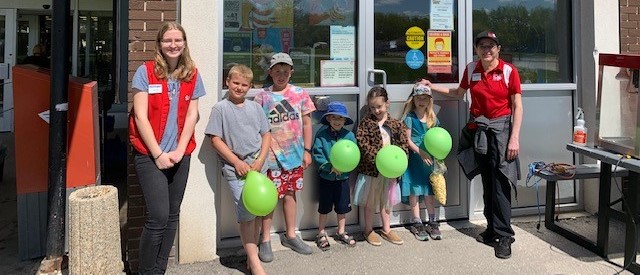 Pictured above: Heather Neufeld, Solo Market cashier (left) and Lisa Thomas, Store Manager (right) with children who participated in the fundraising event
The Solo Market in Pinawa, MB sponsored a community BBQ on June 4 to help the Children's Place Co-op daycare raise funds to upgrade its facilities.
For over 30 years, the daycare has been supporting the community but since the pandemic, it has been challenged financially with fewer students and staff plus an aging building. To help out, community members decided to organize a BBQ fundraiser event. Lisa Thomas, Solo Market Store Manager, was happy to join the cause, and the store fully sponsored the BBQ. Parent volunteers banded together with Thomas and the store staff to put together the BBQ sale and helped out by cooking, selling 50/50 raffle tickets, ice cream and popcorn, and cleaning up.
At least 250 people attended the fundraiser; some of them not only purchased tickets but also made cash donations contributing to the cause. The fundraiser raised $1,659 for the Children's Co-op which was then given to the Pinawa Foundation. In addition, the Pinawa Foundation also topped up 20 percent of the proceeds to the cause – and pledged the donation to the daycare, which plans to use the money to enhance the exterior of the building.
"Lisa is the most unbelievably community-minded person you could ever meet and we are so grateful to her and your organization for the support," said Dr. Selena Papetti, Family Physician and a parent of the Children's Place Co-op daycare.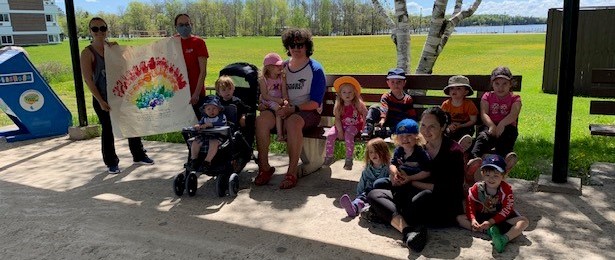 Pictured above: Lisa Thomas, Solo Market Store Manager and a parent displaying the Thank you card created by the children of the Daycare
The following Monday, kids and staff from the daycare visited the Solo Market store to express their gratitude. Thomas was pleasantly surprised when they presented the store with a giant customized thank-you card made from the daycare children's handprints. The thank you card is now displayed at the Solo Market store as a token of love.
"Being a parent, I relied heavily on the daycare for 20 years. The wonderful teachers there helped me raise my children and they were always wonderful about working around mine and other parents' schedules," said Thomas.